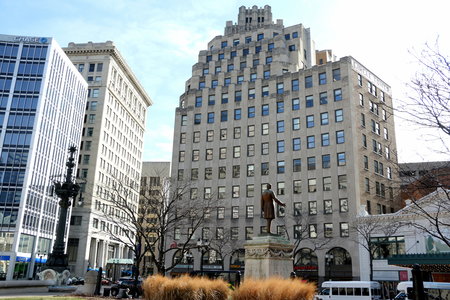 The Monument Circle space vacated by Studio 2000 Salon and Day Spa last summer has two new tenants.
The second-floor space in the Circle Tower building, 55 Monument Circle, is now occupied by a startup, Luxori Salon, as well as a separate business, B. Bliss Spa, which moved to the Circle last month from the Stutz Business and Arts Center on Capitol Avenue.
They will be the third generation of tenants in the Art Deco space: Studio 2000 had been there since 1989, taking the place of a barber shop that had operated there since Circle Tower's opening in 1929.
Recent renovations created two separate spaces for the new tenants.
Luxori, which occupies about 2,000 square feet, opened Friday and is operating on an appointment-only basis for now. It will open for walk-in customers on a date that's yet to be determined.
"We're trying to bring life back to downtown," said salon owner Iva Georgieva. "Pandemic or not, we all need our hair done. We all need haircuts."
Georgieva doesn't have salon experience, so a friend with a salon background is acting as a consultant for the project.
Georgieva does, however, have experience running a business.
She started a lifestyle and business coaching business, E Life Design, two years ago and works with clients both locally and online. Her plan is to use the Luxori space for small-group coaching events at times when the salon is closed.
Luxori is launching at a time when downtown is grappling with numerous challenges.
Studio 2000 told its clients via email last summer that it was closing because multiple factors had created business challenges that were too much to overcome. In that email, Studio 2000 cited the mandatory COVID-19 shutdown and the subsequent emptying-out of downtown and increase in loiterers along Monument Circle, as well as the riots and looting that damaged many downtown businesses in late May.
Georgieva said she's optimistic that things are getting better. Downtown is busier than it was a few months ago, she said, the rioting has ceased and the city has taken steps to address Monument Circle's loitering problem.
B. Bliss Spa, which formerly operated as Bambi's Bliss Spa, had been at the Stutz building since 2018.
The business is owned by massage therapist Amber Wills, and its services include massage therapy, wellness services, spa and beauty services, as well as car detailing.
The name Bambi refers to Wills' family nickname.
Please enable JavaScript to view this content.