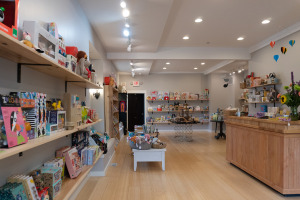 A new toy store featuring durable playthings from around the world has opened in Broad Ripple.
Proprietor Alla Kapchunova said Monon Toys & Crafts reflects her own desire for lasting toys that are unique and educational.
The store at 6510 Cornell Ave. opened May 14 and is in 1,000 square feet of rented space previously occupied by Broad Ripple Knits. It joins a cluster of independent shops in the area.
Kapchunova, 36, holds a degree in psychology and is particularly interested in educational matters and childhood development. When thinking about what she wanted to do in the next stages of her life—she had spent the last few years caring for her daughters, who are eight and four—she said she began to think about opening a business.
"I thought, 'Oh well, I know toys,'" Kapchunova said.
Having her own kids also prompted her desire to open a toy store.
"As soon as I had my kids, I started to look for toys that would be better quality than the average toys," Kapchunova said. 
She said her vision has culminated in a store full of durable toys and crafts from around the world that Kapchunova said she hopes will make kids value creativity and quality over quantity.
"I am not a big fan of huge sets of toys which are just laying all over the house and no one plays with them," Kapchunova said. "If you have two or three good toys, it's surprising how much they [kids] can do with it. When you only have so many options, you have to get creative."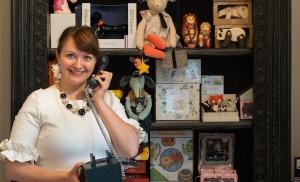 The toys at Monon Toys & Crafts come from many countries, including France, Austria, Poland, Japan, Israel, Germany, England, Turkey and the U.S. The toys range from dolls to building blocks to small wooden treehouses. Kapchunova also makes sure that when toys are being selected for the store, they cannot be found on Amazon or in stores such as Target or Walmart. 
She has also prioritized items being sustainable and eco-friendly, ensuring that most of the toys that are selected are made from safe, natural materials like wood, cotton and non-toxic paint. 
"I don't do any plastic toys," Kapchunova said. "I think society is ready to move into something that is better for the environment and better for the kids."  
Broad Ripple Village Association Executive Director Summer Keown, said the shop fits well in a neighborhood known for independent, creative businesses.
"I just stopped by and purchased a matching game there yesterday for my niece's fourth birthday," Keown said.
Please enable JavaScript to view this content.