Making a film is challenging in its own right—and then finding a way to get that film to audiences presents a whole different difficulty.
"I know a lot of filmmakers who work really, really hard and tell a great story, but then it just gets put on Facebook or Vimeo, and very, very few people see it," said Rocky Walls, a documentary filmmaker and the cofounder of Noblesville-based video production company 12 Stars Media.
That dilemma led to the creation of Hoodox, a subscription-based video streaming service for Indiana-focused documentaries and other non-fiction content. The service launched June 17 at www.watchhoodox.com with a library of 30 titles from filmmakers from around the state.
The service is operated by an all-volunteer Indianapolis-based not-for-profit that is also called Hoodox. Walls serves as the organization's executive director. He's also part of a 16-person Hoodox board of directors whose members include Heartland Film Festival Artistic Director Greg Sorvig and Indy Film Fest Executive Director Dan Moore, among others from both the film and communications/marketing industries.
Hoodox members pay $10 per month or $100 a year to access the streaming service's library, which will be refreshed with new films on a seasonal basis.
Content already on the site includes "More Than Corn," a series about Indiana produce farmers; "IMBPREZ," a documentary about Indianapolis artist Brian Presnell; "Raised in Contrast," a look at the experiences of mixed-race and other non-white Hoosiers; and "Chatterbox: A Love Note to Indianapolis," about the landmark jazz club on Massachusetts Avenue.
Walls said the goal is to expand the library to 100 or so films available at any one time, representing a mix of full-length feature films, along with short films, series and podcasts. All the content will be Indiana-focused, meaning the work was created by a Hoosier filmmaker or is about an Indiana person, place or thing.
The service is built on the Vimeo OTT streaming platform. Vimeo OTT is also used by other services, including the Criterion Collection, which offers a library of more than 1,000 classic and contemporary films for at-home viewing.
"This is not something we put together in our basement with some software that's going to crash in a week," Walls said.
So far, he said, Hoodox has fewer than 100 subscribers, most of them in the Indianapolis area. But Walls said Hoodox hasn't yet started to market itself outside of central Indiana, and he sees the potential for the service to attract members from all around the state.
Walls is also encouraged by a couple of other trends that accelerated last year during the pandemic: an increased interest in supporting local businesses and creators, and the growing popularity of video streaming services, especially for niche topics.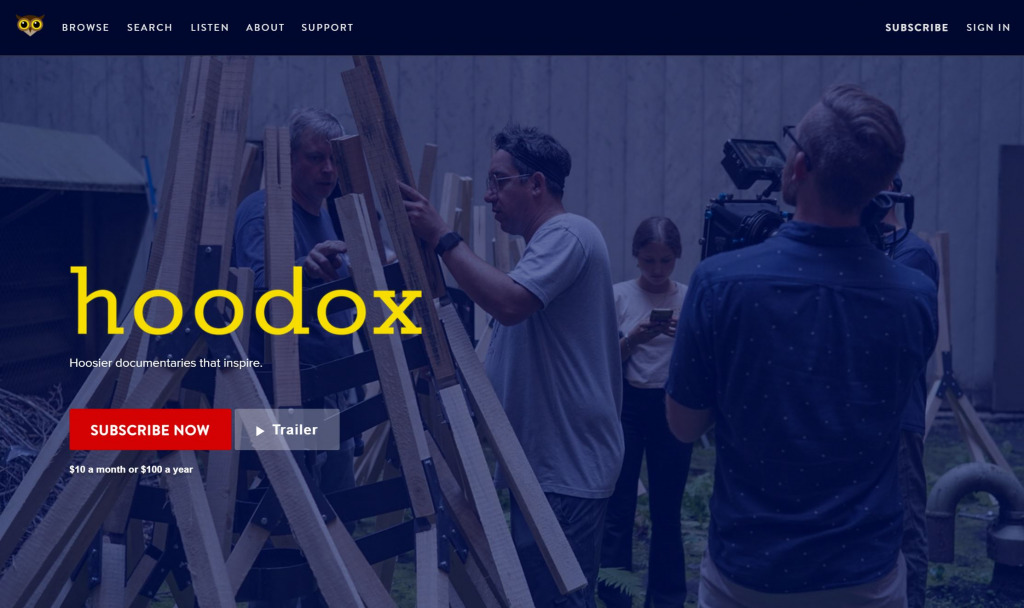 "Nobody would have seen the value of [niche streaming platforms] three or four years ago, because the idea of niche streaming was not really common thought yet," Walls said.
Hoodox will use subscription revenue to pay modest licensing fees to the filmmakers whose work it makes available.
The licensing fees will vary from a couple of hundred dollars up to $1,000 or so, Walls said, depending on a variety of factors, including the length of the film, when it was produced and whether the content is exclusively available on Hoodox. So, for instance, a brand-new feature-length film available only on Hoodox will command a larger licensing fee for its maker than will a short film that came out several years ago and is also available on YouTube.
Hoodox is focused on nonfiction work for a couple of reasons, Walls said.
Walls himself is a documentary filmmaker—four films that he directed or co-directed are part of Hoodox's current lineup.
Hoodox also wanted to stake out a niche within the film world. "Staying focused on something specific is really valuable. We didn't want to be all things to all people," Walls said.
Taking a bigger view, Walls said Hoodox aims to spur conversations and action that can improve the state—and documentary films are a way this can happen. "We have a real gap of opportunities for Hoosiers to truly explore and understand their communities, the characters within their communities, the challenges and opportunities within their communities."
Please enable JavaScript to view this content.