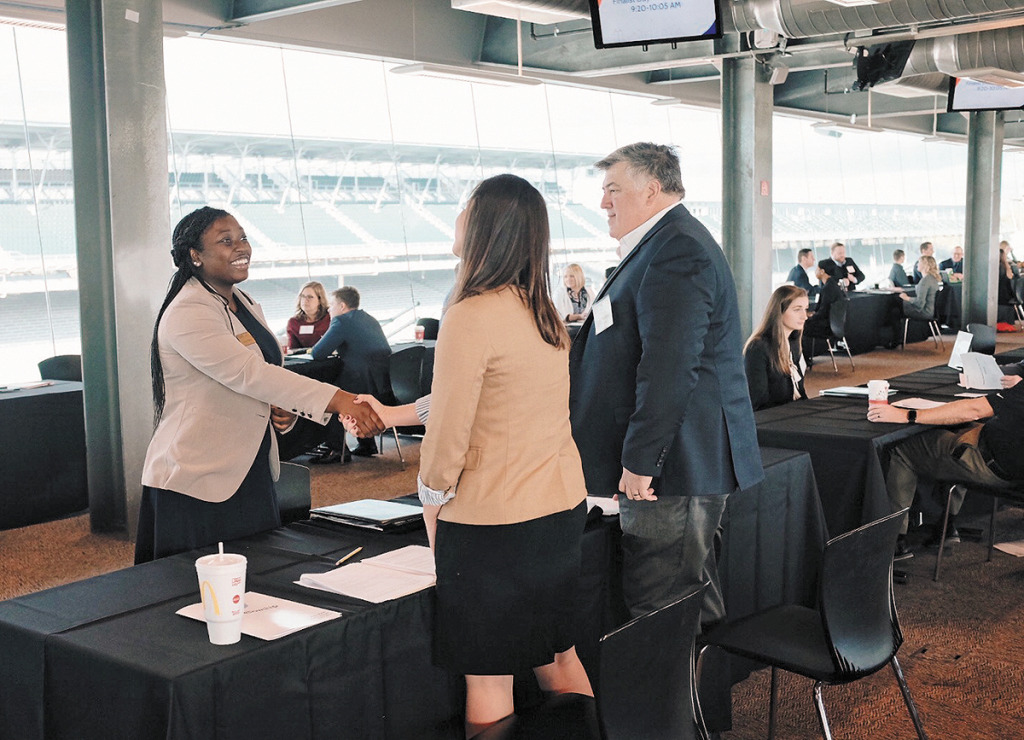 A stroll inside most central Indiana tech companies is likely to lead to an encounter with at least one Orr fellow—and maybe several.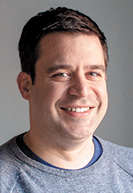 Since its founding in 2001, the Orr Fellowship—a two-year program that connects high-caliber college graduates with high-growth companies—has had an immense impact on the growth of central Indiana business and the tech industry in particular.
"Orr Fellowship has played a tremendous part in the recruitment and retention of talent needed to build this city," said R.J. Talyor, CEO and founder of local artificial-intelligence-driven firm Pattern89.
Talyor was also a member of the first Orr Fellowship class, in 2002. "It has been a big contributing factor to this big entrepreneurial surge we've seen in Indianapolis."
While Orr places its fellows with companies in various sectors—including health care, engineering, accounting and finance—tech is by far its biggest benefactor.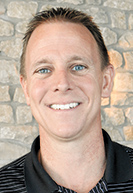 As it prepares to launch its 20th annual class, The Governor Bob Orr Indiana Entrepreneurial Fellowship—commonly called Orr Fellowship—has produced 510 fellows, 125 of which are currently in the program with 62 local companies.
And throughout its history, nearly nine of every 10 fellows opted to stay in the Indianapolis area after their fellowship ended, according to the organization.
But Orr Fellowship leaders are not resting on their laurels. The not-for-profit is in the midst of a drive to dramatically grow class sizes and increase diversity as well as continue to grow its paid staff and enhance its structure and offerings.
This massive impact started humbly.
The fellowship was founded as a way to stop brain drain by Angie's List Chief Marketing Officer Angie Hicks, along with Bill Oesterle, the company's CEO at the time, and Scott Brenton, then the chief operating officer.
It's named after former Indiana Gov. Robert Orr, whom Oesterle worked for in 1987. There were eight fellows in the first class.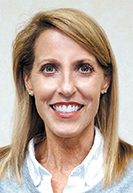 Brenton said the program was basically "run out of the trunk of the Angie's List car" until 2009, when its board expanded and he became chairman. Still, the group remained completely operated by volunteers, even as its classes grew to as many as 40 members and the number of partner companies grew. And because the fellowship is a two-year program that starts a new class each year, two classes are underway at any given moment.
By 2015, the board decided it could no longer run the program ad hoc. So it hired Karyn Smitson as the group's first paid employee.
Smitson, a marketing and communications veteran, had worked at The Indianapolis Star and The Children's Museum of Indianapolis before joining Orr as executive director. She has sought not only to improve outreach and marketing, but also to formalize and enhance the program for the fellows and partner companies.
Integrated support
Fellows participate in several continued-learning events per month centered on business leadership, professional-skills development, entrepreneurism, marketing and sales, and human relations.

Orr also provides access to a professional career coach and a $500 stipend for each fellow to pursue skills-enhancement certificates in such areas as project management and software proficiency. Fellows compete in annual pitch and case competitions. And Smitson and her team bring in a monthly lineup of high-profile speakers to inspire the fellows.
"Karyn has worked tirelessly for this organization, and all that work has had a very positive impact on our business community," said Brenton, who remains Orr Fellowship president. The program "has really grown under her watch."
Smitson isn't about to take all—or even most—of the credit. She is quick to point out that, despite the organization's small staff, she has lots of help. One of the keystones of the program is that current fellows supply a lot of muscle to keep it rolling. They're integral in recruitment for future classes.
And without the organization's board members, she said, there would be no such talent pipeline.
"This is a big deal, getting ready for our 20th class. We started so small, and through grit and determination, the early board members were committed to keeping this going year after year," Smitson said. "We have one of the hardest-working boards around. It's been a great accomplishment to have a talent pipeline that's been here for 20 years. That's a big deal for a small non-profit."
Orr has agreements with 27 colleges and universities, many in Indiana, with a sprinkling from surrounding states. Orr officials recruit heavily at those schools, but it accepts applications from anywhere in the nation. It has received applications from both coasts as well as Texas, Missouri and other far-flung states.
In 2016 and 2017, the organization inched up the number of fellows per class to 42. And the board wanted to keep growing. "We had our eye on having 100 fellows per class," Brenton said. "That was our big goal."
In 2018, Orr Fellowship took a big step in that direction, bringing on 70 fellows.
To fuel that growth, the group hired two more full-time employees. Jen Agnew was brought on as director of programming and engagement in June 2018, and Alyssa Graudins was named director of talent acquisition and company relations this August.
Pandemic pain
But the pandemic has slowed growth.
The two current classes combined have 126 fellows. That number has been "dramatically impacted" by the pandemic, said Brenton, whose day job is vice president of ambulatory services for Indiana University Health.
"We had 10 fellows that were laid off and 17 that had their [Orr Fellowship-related] job offers rescinded," he said. "Twenty-five other fellows had their pay frozen or reduced and four had their start dates pushed back."
Most of those fellows, however, have landed on their feet.
"We only have two fellows now looking for a job," Smitson said. "The fellows have been resilient and the community has surrounded them with a lot of suggestions, encouragement and information."
Growing the upcoming cohort could be a challenge, in part because student applications—at 1,268—are down. The class that began last year was chosen from 1,415 applicants.
Brenton, however, sees this year's number as a sign of the organization's maturity and strength.
"We didn't get to set foot on one college campus this year" due to the pandemic, he said. "We're usually crawling every inch of those campuses—going to student meetings, hosting student meetings, and searching for and networking with candidates. We come in like the Spanish Armada."
Instead, Orr Fellowship this year relied largely on its reputation, word of mouth and technology for remote group and one-on-one meetings with candidates.
The fellows for the 20th cohort will be matched with local companies on Nov. 13; the new fellows will begin full-time salaried work upon graduation, either in January or June.
Another factor limiting growth is the unpredictable economy, Brenton said, which has made it difficult to recruit enough partner companies to employ Orr fellows.
As part of the agreement, companies must pay the fellow $50,000 the first year and $52,000 the second year.
"We are awash in very talented young people from the … universities where we recruit," Brenton said. "The bottleneck is finding the companies we think are going to give the fellows a great experience.
"We're not sure how recruiting over Zoom is going to work or how companies are going to respond," he added.
Financially strong
Despite the challenges, Smitson and Brenton remain optimistic.
Fortunately, the organization is accustomed to running lean. The not-for-profit's 2020 budget was built on income of just under $650,000.
"We are a very, very frugal organization," Brenton said. "We have big cash reserves. We have over one full year operating cash in the bank. I'm not worried at all about our financial stability or viability."
Orr Fellowship is funded solely by its partner companies. For each fellow a company employs, it pays the not-for-profit $5,000 annually.
While some have suggested the fellowship should seek sponsors, corporate donations or grants, the organization's leaders have resisted that idea.
"This is a simple, self-funding model," Brenton said. "A lot of non-profit executive directors spend a lot of time fundraising. That pressure doesn't exist for our executive director or board members, and we kind of like it that way.
"There's also an elegance to our model," he added. "The companies that benefit from this program are the ones paying the freight. We're almost a specialty talent-acquisition company."
Before the pandemic, Orr officials were aiming for 76 fellows in the 20th class. They've lowered that goal to 65, with a downside number of 50.
"We know we are absolutely on sound financial footing if we have 50 fellows," Brenton said. "I would guess we will land in the 55 to 60 ballpark. We are definitely seeing the impact. We are hearing, 'We're going to press the pause button for one year.' The honest answer about next year is, we just don't know."
Still, Brenton and Smitson are so bullish on Orr's future, they've lowered their goal for the class that starts in 2022 by only nine slots, from 82 fellows to 73.
'It's the reason I stayed'
A lot of people are cheering for Orr Fellowship—and for good reason.
"There's a flywheel in Indianapolis that is germinating high-growth companies, and Orr Fellowship is a big part of that," said Pattern89's Talyor.
Officials at High Alpha, Indianapolis' most high-profile and arguably most-active venture studio, said more than 40 current and former Orr fellows are working at companies in its portfolio.
High-profile former fellows include TechPoint CEO Mike Langellier, Lessonly CEO Max Yoder, Lessonly President Conner Burt, Mandolin co-founder Mary Kay Huse, Powderkeg CEO Matt Hunckler, Malomo co-founder Yaw Aning, 120Water Vice President of Marketing Alison Sales Roach, High Alpha Marketing Director Drew Beechler, SupplyKick founder Chris Palmer, Careerable LLC founder Katie Smith, Ascend Indiana Vice President Kate Broshears, and former SupplyKick CEO and former gubernatorial candidate Josh Owens.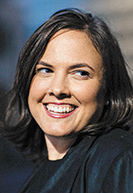 "The impact the Orr Fellowship has had on the Indy tech community has been immense," said Huse, who worked for Rose-Hulman Ventures during her two years with the program. "Speaking personally, it's the reason I stayed in Indianapolis initially.
"At Rose-Hulman Ventures, I saw an opportunity to do amazing things most 22-year-olds don't get to do. I also saw the value of this network where I would get the exposure to many different business leaders."
While in the fellowship from 2002-2004, Huse met with executives at Indianapolis-based marketing tech behemoth Exact Target. She later took a full-time job there, and continued as an executive with Salesforce after the California company bought Exact Target in 2013.
This year, Huse co-founded and is CEO of fast-growing Mandolin, which has created a livestreaming music platform.
Her firm employs one Orr Fellowship graduate and a current fellow.
"The program is very competitive and the talent I see coming out of it is very impressive," Huse said. "If I'm hiring an Orr fellow, I know I'm going to be getting a well-balanced, ambitious employee with a good general business curiosity as well as solid soft skills, including being a clear communicator and having a focus on collaboration."
Drive for diversity
But growing the number of fellows isn't the organization's only objective. In the last few years, Orr Fellowship began a big effort to become more diverse.
Brenton admitted that Orr officials had become too comfortable fishing "the same lakes and streams."
The result was that, while Orr Fellowship had done well with gender diversity—just more than half of the fellows are women—it fell short recruiting ethnic minorities.
Before 2017, Orr Fellows were 9% people of color. That was well below the 19% of ethnic minorities that populated the schools and colleges where the organization recruited.
Brenton said the group recently recruited a talented Black man who was attending Butler University, but he didn't get hired by one of the organization's partner companies. "That was an ignition point for us," Brenton said. "We thought, 'We can do better.'"
Orr officials set a goal that 20% of fellows would be ethnically diverse.
"We met that threshold with the class of 2019," Smitson said. "We still have a ton of work to do, but we have momentum."
Smitson and her staff have worked hard over the last three years to meet and communicate with various minority groups on all the campuses where they recruit.
The hope is that, once they build a pipeline of minority Orr graduates, those diverse members will help perpetuate the elevated diversity of the program.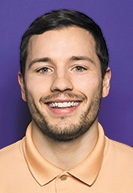 Eddie Cmehil, a Ritter High School and Wabash College graduate who was an Orr fellow from 2016-2018, said "diversity was a big topic of conversation when I was a fellow."
Cmehil, who is now head of demand generation for local tech firm Malomo, said the reason for the initiative—which his class played a big part in fueling—is twofold.
"First, there's a recognition among the Orr Fellowship that it's important to be inclusive and to have a diversity of ideas and viewpoints and to come to an understanding of and appreciation for those different viewpoints," Cmehil said. "The diversity initiative has to be something beyond just checking the box, and at Orr Fellowship, it is."
Diversity is also critical to making sure Orr's pipeline is maximally talented.
"The best talent isn't from one culture; it's from many cultures," Cmehil said. "If you're not creating an atmosphere that allows many cultures to thrive, you're not getting the best talent.
"Having that viewpoint of different experiences and cultures is crucial to bringing the best talent in."•
Please enable JavaScript to view this content.