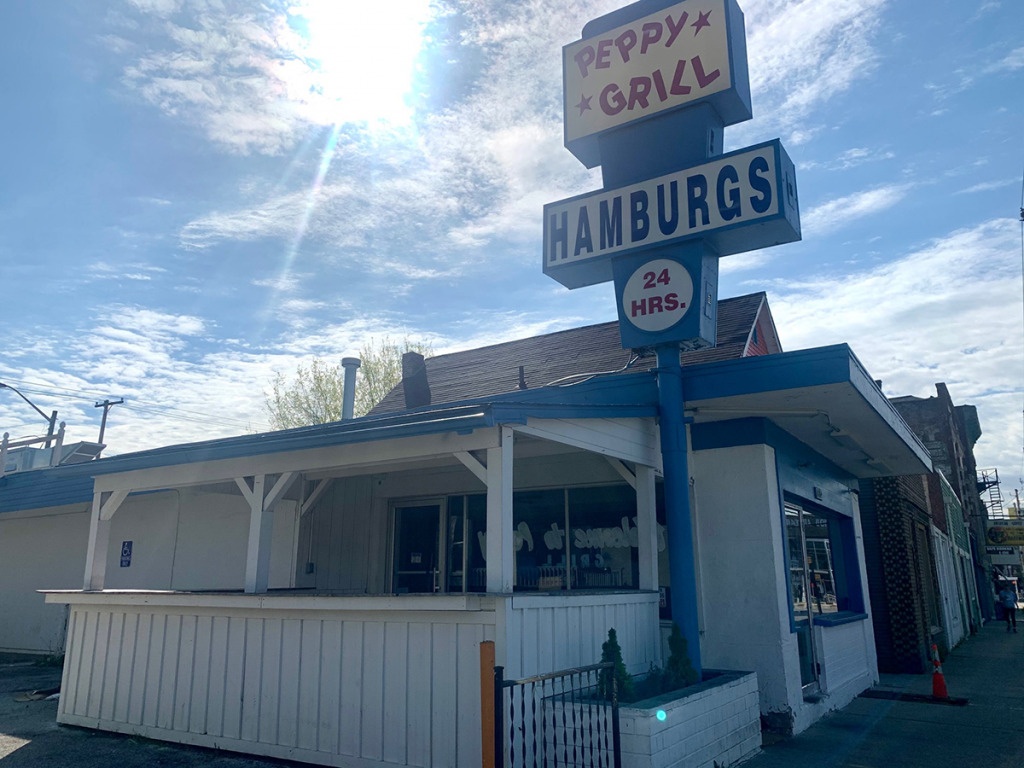 Celebrated greasy-spoon diner and Fountain Square icon Peppy Grill has closed, although plans are in the works for a new location.
"The building had many issues," Brighton Dube told IBJ via text on Wednesday morning. It was built in 1930 and recently underwent a significant renovation, reopening with a reorganized and redecorated interior in September 2019.
Dube is chairman of Peppy Grill LLC, which operated the restaurant at 1004 Virginia Ave. It recently opened another Peppy Grill at 910 W. 10th St. near the IUPUI campus and is planning further expansion.
According to Marion County Assessor's records, the building on Virginia Avenue was sold in March to a company affiliated with the California-based World Famous HotBoys chain, which specializes in Nashville-style hot chicken.
Dube said Peppy Grill LLC was looking at opening stand-alone locations with drive-thru service.
The first Peppy Grill opened in Indianapolis in the late 1940s at the corner of Washington Street and Senate Avenue. By 1955, there were six locations around town, and by 1960, there were 10.
The chain was founded by Gene Sluder, who died in 1979. Husband and wife team Gerald and Mary Wyman bought the Virginia Avenue Peppy Grill shortly afterward, and Mary Wyman continued to operate the restaurant until her retirement at age 74 in 2013. She died two years later.
Before Fountain Square's recent revival as a cultural district, foodie haven and hot residential market, Peppy Grill was one of the few eateries in the neighborhood.
Since it was open 24 hours a day, seven days a week, the clientele varied by the time of day. As a New York Times writer observed in a 1998 article, during the late-night hours, it's "a popular place with bartenders, actors, the gay community, sex workers and drunks. The eavesdropping is even better than the food."
Mary Wyman told IBJ in 2011 that if you wanted to see Peppy at its loudest, most crowded and outrageously entertaining, you would come in between 2 a.m. and 4 a.m. on weekend mornings.
"It's fascinating to watch," Wyman said. "This place will fill up and we'll have people standing around."
The restaurant briefly closed in 2018 after health inspectors discovered issues with inadequate refrigeration and suspended its license. It passed inspection soon after.
This story will be updated.
Please enable JavaScript to view this content.