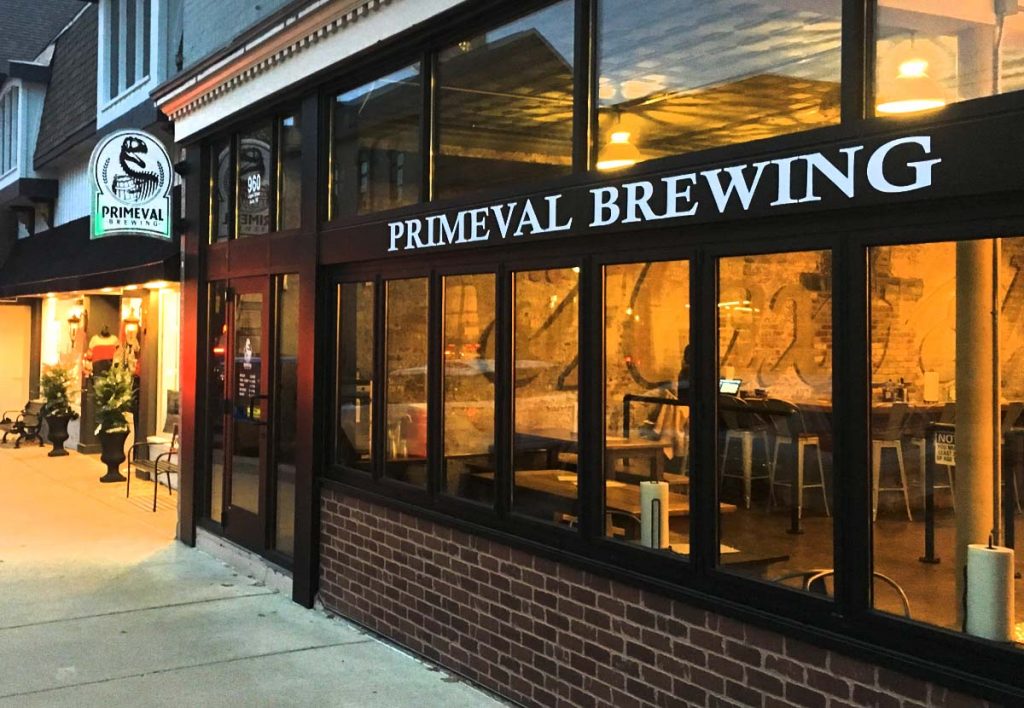 Nearly two years passed between the time Primeval Brewing secured a lease near Noblesville's downtown square and the first beer being poured, but the owners say it was worth the wait.
Primeval Brewing co-founders Nathan Compton of Indianapolis and Tim Palmer of Fishers opened their European-style beer hall in Noblesville on Friday to a line that wrapped around the block. Their path to finding a space and launching in the early 20th-century building at 960 Logan Street, Suite 100, was much longer.
"We spent a long time trying to find a place. The kind of place we wanted, it doesn't just work anywhere," Compton said. "The European beer hall vision is really hard to create in a strip mall."
For Compton, it all started after Christmas nearly 15 years ago. He admits he's not an easy person to buy gifts for, and he wasn't thrilled when his in-laws presented him with a homebrewing kit. He gave it a try, though, and found he enjoyed always having beer around.
Compton started scheduling time between his work as an IT consultant to brew beer and attend meetings for Foam Blowers of Indiana, an Indianapolis-area club sanctioned by the American Hombrewers Association. There, he met Palmer, who'd picked up homebrewing during the recession.
Palmer also had a shaky start in homebrewing, scorching the bottom of the pot during his first attempt and producing little more than a black congealed blob of ooze. He tried to set the pursuit aside, but his professional training wouldn't allow it.
"Being an engineer, I had to figure out what went wrong," Palmer said.
Palmer started listening to podcasts as he drove back and forth to work as a technical maintenance manager for commercial products manufacturer and distributor, Newell Brands, in Fishers.
"It got to the point where I was brewing so much I had no where to store it," Palmer said. "People would just start coming over. They'd see the garage doors open and know it was time."
Soon, Compton and Palmer realized they had similar interests and started collaborating on beers inspired by those from Germany, Britain and Belgium.
The two wrote a business plan and formed Rebelle Brewing LLC, doing business as Primeval Brewing, in 2016. Neither founder had ever run or bar or restaurant, but they had high hopes for Noblesville, a relatively dry market in an otherwise-saturated craft brewing industry.
They signed a lease for the 3,800-square-foot space in February 2018. The building in the Noblesville Commercial Historic District traded space for character, and the challenges of meeting building codes in the historic space set them back nearly two years.
It took time and money to take down, clean, replace and paint the tin ceiling tiles so that a required drywall barrier could be built between the taproom and the upstairs property owners, Mike and Tawni Partin of Parker Mortgage Team.
Had they taken investor money, Palmer said, things would've gone quicker. But they didn't, and instead opted to front the money themselves with a little help from family and a Small Business Administration loan.
Palmer and Compton avoided taking money from investors in order to maintain control of their operations.
Compton is working as a full-time owner while Palmer continues to oversee Ball canning facilities in Fishers and in Muncie. They've since hired four part-time bartenders and a cook to prepare the brewery's small food menu.
Primeval is equipped with a seven-barrel brewing system, able to pump out 14 kegs a batch. The setup will suffice as Compton and Palmer focus on the 131-seat taproom operations for the first six months, but it may be stress-tested once Primeval starts to branch out.
"That's pretty sufficient to supply a taproom like this," Palmer said. "To get into major distribution, it would be a struggle."
Please enable JavaScript to view this content.