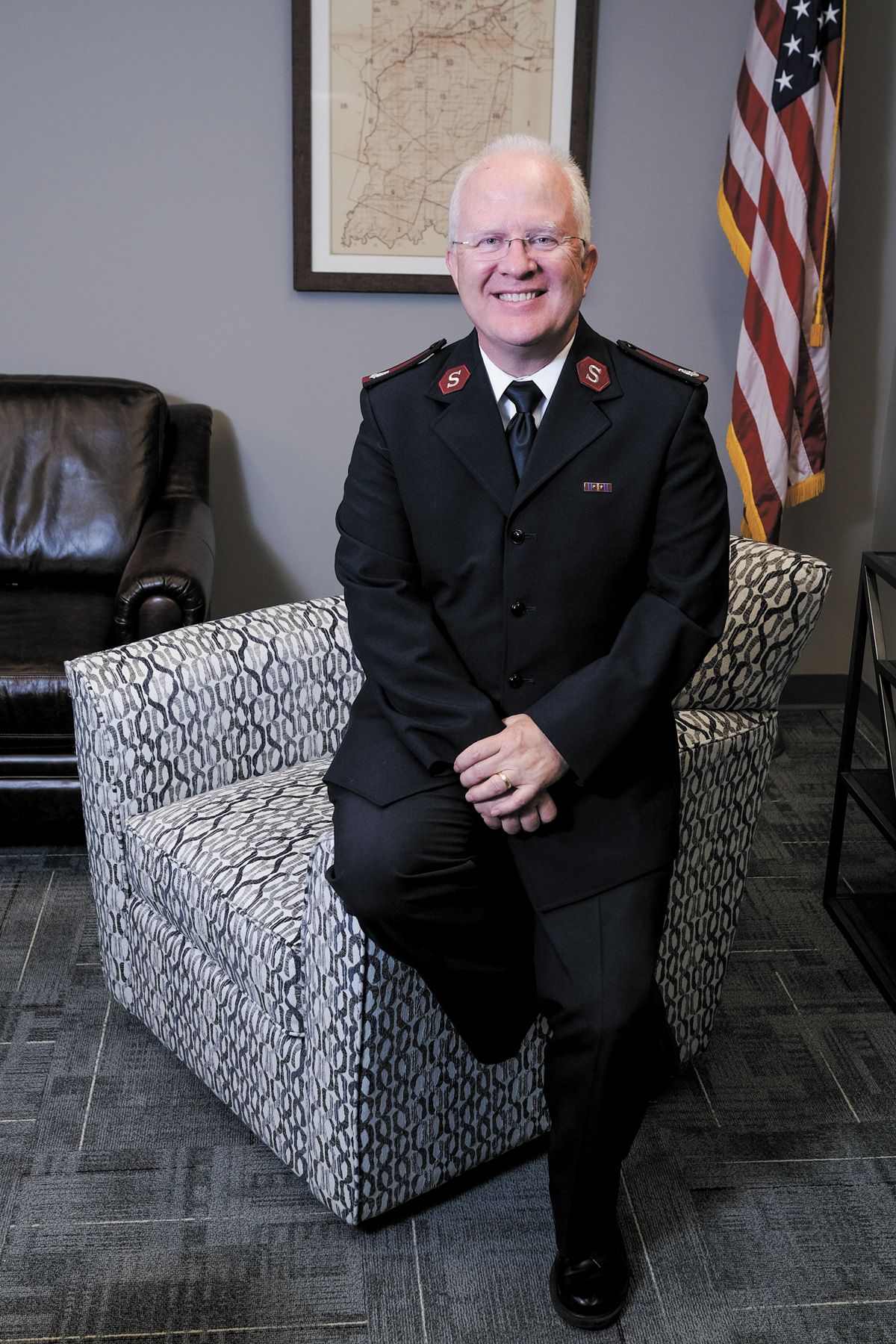 Major Marc Johnson, 57, became commander of The Salvation Army's Indianapolis-based Indiana division on July 1.
He oversees an operation that serves 85 of the state's 92 counties and has annual revenue of just more than $29 million—56% of which comes from donations. Last year, the Indiana Division served 578,000 people.
What is the biggest challenge that COVID-19 is posing to your organization?
It's posing many challenges. We operate in areas that are very different from each other. So there's not one challenge, per se, that's everywhere, but I would say if I had to boil it down to what's the biggest challenge, I think it's service delivery.
We are, like almost everyone, being challenged to operate creatively, with new methods. There's some good that comes from that because it challenges us to discern: How do we meet existing needs? But also, there could be prior needs that were going unmet because people didn't know they had them. There could have been underlying circumstances that did not come to the surface until COVID happened. And so now there are new challenges that we did not have before that we need to address and work with.
Like what?
It could be underlying mental health. When many people had to go into isolation, they were not able to process it as well as perhaps they thought they would be able to. Likewise, feelings and emotions. And then upon return to work, when we did begin to come into the office, per se, or sites, sometimes people were a bit edgy and they didn't know why. … It's not just clients but it's our staff that we care for as well.
How has the pandemic affected fundraising efforts?
The people of Indiana have responded well in initial crisis mode. They understand there are needs, and the Salvation Army is on the front line meeting needs of people as they occur. So that has been good.
I think some areas of concern would be more in forecasting. There have been events that we've had to cancel that are major fundraisers for us. And the future of, for example, our Christmas kettles, is an unknown at this point. What is that going to look like? No one can say exactly what we're going to be operating under as a society. How will that affect shopping, traffic patterns? People's willingness to give cash into a bucket at Christmas time may be affected. The ability to process that much cash in a safe manner, lots of things like that.
Programs like our Coats for Kids distribution and Angel Tree. These are major events for us where we help hundreds and thousands of individuals. And our whole process has to be retooled. So it's like doing it for the first, even though we've been doing it for many, many years.
How long have you been affiliated with the organization?
You could say I was born into the Salvation Army. My parents brought me to the Salvation Army church from the time that I was a baby. And so I grew up attending church services and activities, and as I got older, I felt the call of God upon my heart and life to serve him as a pastor in the Salvation Army.
So I entered the College for Officers Training, which is our seminary. As a Salvation Army officer, an ordained minister with the Salvation Army, I just completed 35 years in June.•
Please enable JavaScript to view this content.