Randy De John experienced the flaws of the food-delivery industry firsthand at his home in Fishers. So, being a restaurant industry veteran of 37 years and a former managing partner at Casler's Kitchen & Bar, he decided to do something about it.
Room Service on Wheels will open in late June at 11110 Lantern Road in Fishers with about 12 to 15 employees, including Chef Craig Baker, working to get food to customers quickly and efficiently.
How did you get the idea for Room Service on Wheels?
It came about when I was single and I was living right over here at The Yard, and I didn't cook at home. I ordered food out all the time—so, DoorDash, GrubHub, all these food folks would deliver the food. I just kept seeing so many flaws as far as food that doesn't travel well. I'd get food that was soggy or cold. On Friday and Saturday, I could wait up to an hour and a half for the food. And the big one was the fees. You know, they've just gotten out of control. There could be $12 to $15 in fees.
How do you plan to get food to people quickly?
I decided that I could deliver within 30 minutes. That's kind of our goal: 30 to 45 minutes and no fees. It's our own drivers we hire and train, so they're not independent drivers. We have some of our own vehicles they can use because gas prices are so bad. We're in a condensed area. I kind of call it the Jimmy John's model in a sense. Two-and-a-half miles is probably the farthest we go, so we can get the driver there and back really quickly. It's a dense area, so we use bicycles, golf carts, mopeds. We have electric bikes that go down the trail because we're right next to the Nickel Plate Trail.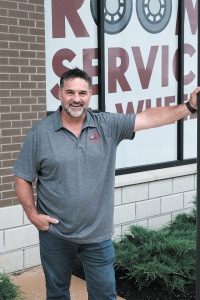 What will set Room Service on Wheels apart from other food-delivery companies?
I just wanted to bring that customer service back. I mean, look at GrubHub and DoorDash and some of these other companies. They ring the doorbell, lay the food down on the patio and then walk away and leave and text you to tell you the food is there. So, you come up to the door and it's lying on the ground. There's not that personal touch anymore. We've trained our own drivers for that reason. They're going to knock on the door, and they're going to name you by name. Just go that extra mile for the customer. So, just the personal touch. The delivery businesses charge all these fees and lost the personal touch to the customer.
What will be on the menu?
It's a scratch kitchen, so everything's fresh. We have nothing frozen. We have wraps, we have salads, we have wings, we have chicken fingers, we have burgers, pastas. Then we have a great kids' menu. We have catering as well. And we also offer curbside pickup. On Saturdays and Sundays, you can walk up to our window, and [we'll give you] a fresh-baked cookie. It's free.
What are the three most important lessons you've learned during your career in the restaurant industry?
I have three mottos, and we follow them in our restaurant every day. I believe what's going to make me successful is, No. 1, we take care of the customer. No. 2, we take care of our people, our employees. And No. 3, we take care of the brand.•
Please enable JavaScript to view this content.