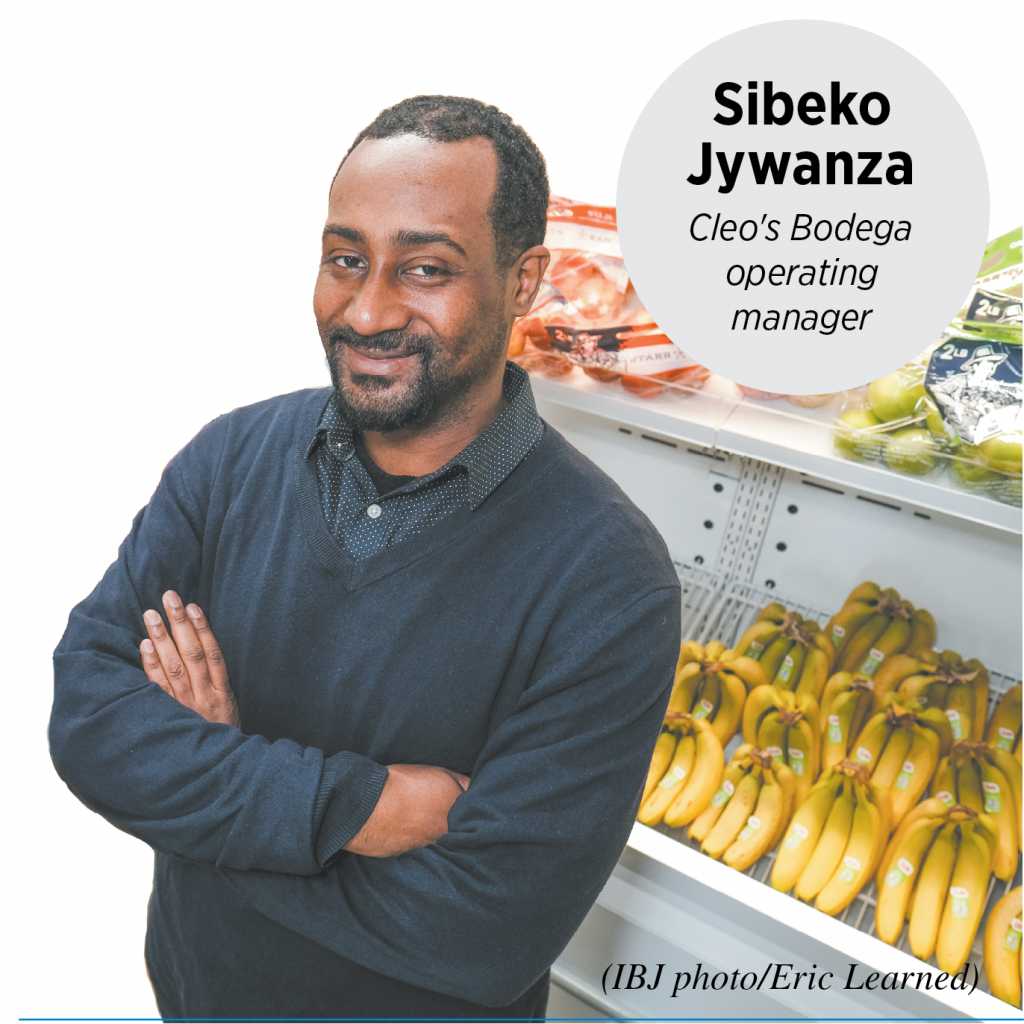 In its ongoing effort to provide more food access to marginalized local neighborhoods, not-for-profit Flanner House of Indianapolis opened Cleo's Bodega & Cafe last summer. The combination grocery store and restaurant at 2424 Dr. Martin Luther King Jr. St., just north of Fall Creek, is led by Operating Manager Sibeko Jywanza, 37, an Indianapolis native who also serves as director of food justice for Flanner House. Cleo's joins a roster of initiatives Flanner House uses in its food-justice mission, including Flanner Farm; the Farming, Education, Employment and Distribution, or FEED, program; a shared kitchen; a day care; and an orchard.
What made you decide to open a grocery and a cafe at the same time?
We are in one of the largest food deserts in the city, meaning that it's over a mile until you get to any place to buy fresh produce. So, we needed a place where people could come and get fresh fruits and vegetables. Also, there wasn't a place where people could sit down, have some coffee or a meal, enjoy free Wi-Fi and have a meeting in this community. The cafe seemed like a perfect opportunity to do that.
You've been open since last June. How's it going so far?
We've seen consistent business from people who've become regulars, especially on the cafe side. We've had some diehard people who come through and love what we're doing over here. It's been really good to know that people understand what we're trying to do, that it's about building community.
What do you see as the biggest challenge so far?
Anybody that's in the grocery store business will tell you it's not for the faint of heart. It's one of the most difficult businesses to get established. It's not only difficult to identify the products that people want to buy, but also just getting the products when we need them can be difficult. Being a small business with one location, we do run into supply and inventory problems. The chain grocery stores can buy things in huge quantities and get discounts or even take losses on some items to bring in shoppers. We can't do that. We've spent a lot of time finding suppliers who can not only help us keep prices as low as we can for our customers, but also give them the best quality. Those two things don't always go together. We've heard the community loud and clear that they want quality food. And we'll keep up those standards while pricing things the best we can. It's a real balance.
What items are selling the best so far?
In the grocery, whenever we have greens, those really go. And when we have a good deal on some meat, chicken or hot dogs and things like that, those go fast as well. On the cafe side, our signature gourmet grilled-cheese sandwiches made with TRAP Buttah from Chef Oya Woodruff are really popular and so are our smoothies. We also have a special treat, a homemade Pop-Tart, that sells out right away. We can't keep them on the shelves.
This all fits into Flanner House's food-equity mission. Can you tell us the next project in the works?
Coming up next will be a greenhouse that should be here this year. That should help us a lot to produce food and work for people throughout the year. It will help us control exactly what we need when we need it to help us provide for the community.•
Please enable JavaScript to view this content.