A potential Democratic gubernatorial candidate has taken herself out of consideration for next year.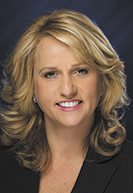 State Rep. Karlee Macer, D-Indianapolis, released a statement Tuesday morning announcing that she won't be running for governor in 2020.
Instead, Macer said she looks forward to helping other community leaders and trying to overturn or change policies made by the Republican supermajorities in the Indiana General Assembly.
"Anyone who knows me knows that it is the frontline problem solving and policy-making that drives me in my work," Macer said in a written statement. "While I stand ready to roll my sleeves up, and show our state what it means to be a Democrat, I will not be doing so in a bid for governor."
Macer, who had been considering entering the race this summer, has served as a state lawmaker since 2013, and works as the community relations manager and clinical liaison at Northwest Healthcare Center.
She started raising speculation of a statewide campaign in May when she advertised fundraising events with a logo of her name in front of the state of Indiana. She also had started issuing press releases commenting on the previous legislative session and ongoing issues at the Indiana Department of Veterans Affairs.
Only one Democrat has announced official plans to run for governor so far—former Indiana state health commissioner Woody Myers. State Sen. Eddie Melton from Gary has formed an exploratory committee.
Republican Gov. Eric Holcomb announced his re-election bid last month.
Please enable JavaScript to view this content.