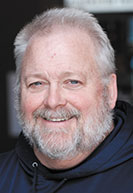 Indianapolis-based Sahm's Restaurant Group, which operates more than a dozen restaurants and brewpubs in central Indiana, plans to close both of its downtown Indianapolis businesses because of a major decrease in customer traffic due to the COVID-19 pandemic.
Sahm's Cafeteria inside OneAmerica Tower, 200 N. Illinois St., is set to close at the end of October. Sahm's Tavern, 433 N. Capitol Ave., inside the historic Gibson Building, has been closed since this spring and will not reopen.
"It is heartbreaking that it has come to this," Sahm's Restaurant Group founder and owner Ed Sahm wrote on Twitter Saturday in announcing the closures.
Because so many people are still working from home, the cafeteria's revenue is only 5% of what it was before the pandemic, Sahm wrote.
The cafeteria moved into OneAmerica Tower in 2009 after six years at BMO Plaza. Sahm's Tavern opened within a year after that in 3,600 square feet in the Gibson Building, which was built in 1916.
"Ten years of hard-ass work and dedication building a vibrant lunch spot and neighborhood hangout … POOF," Sahm wrote. "It's tough. Gut-wrenching, actually. We just couldn't work out a plan with our landlord for a successful outcome for us."
The company also uses the OneAmerica location as the hub of its catering operations. Sahm said catering activities will move to other Sahm's locations, including Liter House, its German-themed brewpub at the corner of East 53rd Street and Winthrop Avenue.
Sahm said the company will continue its work with Second Helpings, a local not-for-profit food relief organization. Sahm's began preparing meals for Second Helpings at its Sahm's Cafeteria site this spring and has since prepared more than 200,000 meals for the organization.
Please enable JavaScript to view this content.