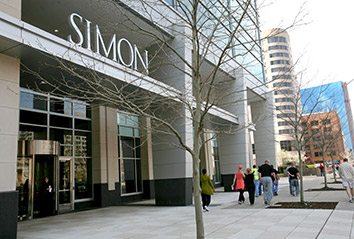 Indianapolis-based shopping center giant Simon Property Group has formed a blank check company with a target value of $300 million, according to a regulatory filing.
The special purpose acquisition company, or SPAC, will be called Simon Property Group Acquisition Holdings Inc., the Jan. 29 filing says.
Simon Property Chairman and CEO David Simon will serve as chairman of the SPAC. His 33-year-old son, Eli Simon, senior vice president of corporate investments at Simon Property, will be its CEO.
SPACs—also known as blank check companies—are shell companies with no operations when they go public. They use proceeds from an initial public offering, often along with additional cash raised privately, to buy a business.
The filing says Simon will offer 30 million units at $10 in the IPO. Each unit will consist of one share of common stock and one-fourth of a warrant, exercisable at $11.50.
"At the proposed deal size, Simon Property Group Acquisition will command a market value of $375 million," the company said in the filing.
Simon officials said they "have not selected any specific business combination target and we have not, nor has anyone on our behalf, engaged in any  substantive discussions, directly or indirectly, with any business combination target with respect to an initial business combination with us."
SPACs have become an increasingly popular vehicle for investors and private companies in recent years, spooked by the ups and downs of the traditional initial public offering market.
According to SPACInsider.com, there were 248 SPAC transactions in 2020 with proceeds of $83 billion. There were already at least 91 such transactions in January, with proceeds of $25.4 billion.
Other local companies that have recently filed a SPAC prospectus are Emmis Communications Corp. and Novus Capital Group.
Simon said the SPAC acquisition target is likely to need expertise in both retail and technology.
"Our strategy is to identify and target a company or assets with significant growth potential and prospects to create value in the public markets," the filing said. "We expect that companies or assets we choose to target for our initial business combination will operate in an industry that will benefit from the experience, expertise and operating skills of our management team and SPG. We expect to be a new sponsorship pillar to SPG's approach to investing in growing companies at the intersection of retail and technology that drive forward innovative consumer experiences."
Simon shares rose a penny on Monday, to $92.94 each.
Please enable JavaScript to view this content.