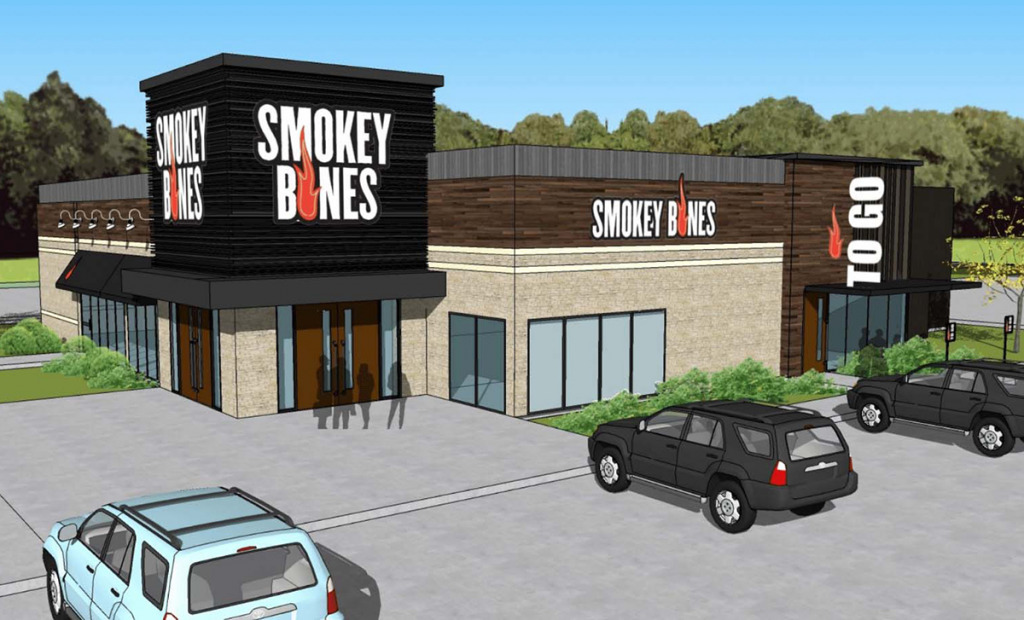 The Florida-based barbecue chain Smokey Bones is returning to Avon after a 15-year hiatus, with plans to slide back into the very same property it occupied previously: The Avon Commons shopping center at 10143 Rockville Road.
The chain plans to open the Avon location in the first quarter of next year, said Smokey Bones CEO James O'Reilly.
A new twist: This time around, Smokey Bones will use the 6,850-square-foot location for three separate purposes—not only as a dine-in restaurant, but also a ghost kitchen for two virtual restaurant concepts that Smokey Bones launched in late 2019: The Wing Experience and The Burger Experience.
This will be Smokey Bones' second Indianapolis-area location, joining an existing store in Greenwood. The chain, which is based in the Miami suburb of Aventura, Florida, operates a total of 62 locations in 16 states.
Smokey Bones' previous Avon restaurant was in operation until 2007, when the chain's owner at the time, Orlando, Florida-based Darden Restaurants Inc., closed that location along with more than 50 Darden restaurants of various brands. Smokey Bones is now owned by Boca Raton, Florida-based Sun Capital.
The Avon site was then taken over by IHOP, which operated there until 2019. The space has been vacant since then.
When it reopens in Avon, Smokey Bones will be in a space designed to accommodate its two new virtual restaurant concepts. It will occupy the same square footage as it did previously, O'Reilly said, but the space will be configured differently.
A traditional Smokey Bones store uses about 35% of its space for the kitchen and the remaining 65% for front-of-house space, including the dining room and other customer-facing areas.
Under the new layout, the Avon location will include a separate entrance and checkout counter devoted to carryout and delivery orders. The area will occupy about 15% of the entire location, O'Reilly said, reducing the front-of-house space to 50% of the total. The kitchen will occupy the remaining 35%.
In an effort to grow the off-premises part of its business—food that is eaten somewhere other than at its restaurant—Smokey Bones launched The Wing Experience and The Burger Experience as takeout- and delivery-only concepts.
"We really leaned into that even before the pandemic," O'Reilly said.
Smokey Bones launched the virtual burger and wing concepts in about a dozen markets in late 2019 and has since rolled them out to all 62 of its restaurant locations. The company also has two ghost kitchens—sites that prepare food entirely for delivery and carryout—one that opened in the spring of 2020 in Chicago, and one that opened in April in Columbus, Ohio.
The chain chose wings and burgers for its first two virtual concepts, O'Reilly said, because they were items already on the Smokey Bones menu. Giving each type of food its own virtual restaurant allowed the company to showcase menu items that might otherwise get overlooked among Smokey Bones' regular fare.
The Wing Experience (thewingx.com) offers 50 flavors of boneless and bone-in wings as well as chicken sandwiches. The Burger Experience (burgerxorder.com) offers five different burgers, plus veggie-burger and build-your-own-burger options.
Partly because of the pandemic and partly because of the launch of its burger and wing virtual concepts, O'Reilly said, the company's off-premises revenue has more than doubled what it was before the pandemic. He declined to provide specific numbers.
Looking ahead, O'Reilly said Smokey Bones sees plenty of growth potential for both The Wing Experience and The Burger Experience. But the company is also working on some additional virtual brands—new concepts now in development for possible launch next year. "We continue to explore additional virtual brand opportunities for the company," O'Reilly said.
Virtual kitchens are a growing trend in the restaurant industry. A couple of examples:
Last year, Cracker Barrel Old Country Store Inc. closed its 9340 Michigan Road restaurant, converting it into the Lebanon, Tennessee-based chain's first ever ghost kitchen. In February, Cracker Barrel announced it would use the location to test a new chicken-and-biscuits virtual restaurant brand. During a call with investors in May, Cracker Barrel said it planned to expand the concept's test to an additional 19 locations.
And Macaroniville, a macaroni-and-cheese virtual concept launched by fast-casual chain Fazoli's, became available in the Indianapolis market last month.
Please enable JavaScript to view this content.