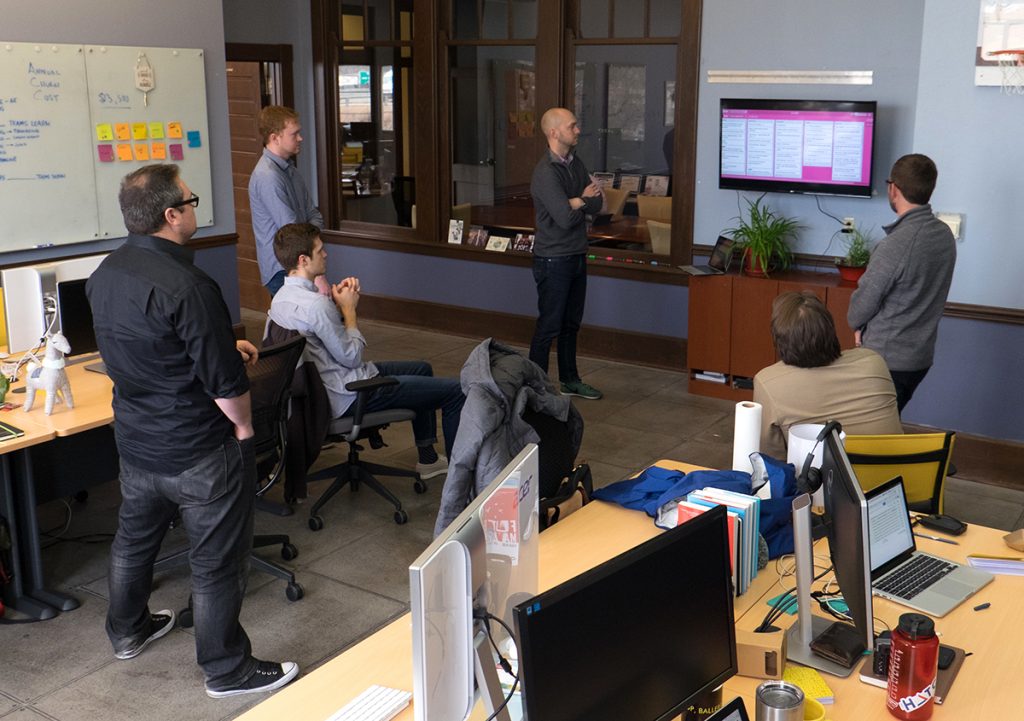 Indianapolis-based tech firm Lessonly Inc.—a firm founded in 2012 that is now part of the High Alpha portfolio—announced Friday that it has raised $15 million in Series C funding from a variety of blue-chip investors.
Lessonly said the funding will be used to fuel growth across all segments of the company, which sells employee training software.
"This investment will touch every part of our business," Lessonly CEO and co-founder Max Yoder told IBJ. "It will make us bigger, stronger, faster.
"I'm proud of our company and mission," Yoder added. "And I am grateful to everyone who made this possible."
The recently closed Series C round brings Lessonly's total venture and growth capital haul to $29 million.
The most recent round—raised before the coronavirus struck the U.S.—was led by Paris, France-based AXA Venture Partners, with participation from Indianapolis-based Allos Ventures, San Francisco-based Atlas Peak Capital, Boston-based Openview, New York-based Rethink Education, Boston-based The Yard Ventures and San Francisco-based Zendesk.
"Lessonly's easy-to-use software helps companies increase sales and delight their customers," Alex Scherbakovsky, AXA general partner and Lessonly board member, said in a statement. "We are proud to partner with Max and the Lessonly team to scale the company globally."
The investment will help Lessonly grow its employee count—now at 170—but Yoder declined to make projections. The vast majority of Lessonly's employees are in Indianapolis.
"We'll add employees across all departments," he said.
Lessonly has more than tripled its number of employees—affectionately called Lessonly llamas—and the number of users of its software since the company's Series B funding in November 2017. The firm opened a new Indianapolis headquarters last summer to fuel continued growth.
The recent outbreak and spread of coronavirus in the U.S. is expected to make capital fundraising more difficult going forward. Lessonly started having conversations with investors in December—when the coronavirus was just starting to emerge in China and was not yet an issue here. Terms of Lessonly Series C round were signed in January.
It's not clear how the sudden onset of the coronavirus pandemic will impact Lessonly's growth plans.
"We're looking at growth long term. But right now. the most important priority is the mental and physical health of our team," Yoder said.
Still, the current situation could make it more likely Lessonly's growth will continue. The firm's software facilitates remote learning, training and the practicing of work skills, which will almost certainly be more in demand as companies in the U.S. and beyond are in heavy work-from-home mode.
In addition to Lessonly's existing software features, Learn and Practice, the company announced this week it will launch Assess in mid-2020. Assess enables learners to demonstrate proficiency in existing skills and hone those that need improvement. This "skills engine" will guide learners to the lessons, practice scenarios, and certifications they need to advance in their careers and deliver greater value for businesses, Yoder explained.
Lessonly's customer list has recently grown beyond 1,000, Yoder said. Customers include Honeywell, Jostens, HelloFresh and SalesLoft. "We have large and small customers."
The company has also been rated the No. 1 corporate learning management system on independent review sites like G2 and TrustRadius.
Lessonly "was so user-friendly, right off the bat. It was so flexible and met our needs. Lessonly was interested in more than just delivering a platform," said Mark Bussell, Jostens national director of learning and development scholastic, in a statement. "They were interested in partnering and walking along the way with us."
"We are committed to investing in [software-as-a-service] companies that empower their customers and users to be their best," Hilary Shirazi, Zendesk director of corporate development, said in a statement. "We are impressed with how Lessonly helps customer-facing employees excel at their craft and do better work each and every day."
Please enable JavaScript to view this content.