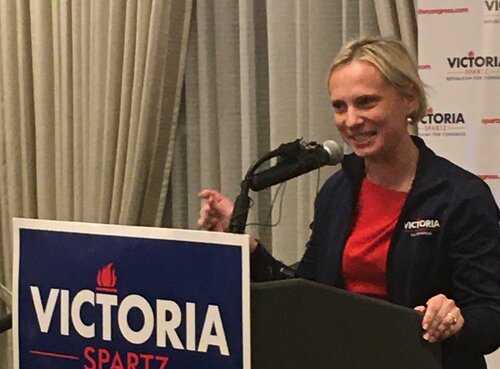 Republican Victoria Spartz said Tuesday night she's confident she's on track to win Indiana's 5th District, even with some votes left to count in several of the counties that make up the sprawling congressional district.
But Susan Brooks—the outgoing Republican congresswoman Spartz would replace—went further, declaring victory on Spartz's behalf and saying "we believe come tomorrow" she will be the winner.
"We know that we have absentee ballots still out—yes in Hamilton County, yes in Marion County," Brooks said. "But she has demonstrated such strength in all of those counties."
Spartz, a state senator, had 51% of the vote over Hale's 44%, with 78% of the vote counted, according to the Associated Press. Her margin was more than 23,000 votes.
But Hale's campaign said she was not ready to concede.
"There are still tens of thousands of mail-in votes in the Fifth District that have not yet been counted, particularly in Marion and Hamilton counties, where we have done a significant amount of voter outreach over these past few months," the statement said. "This race is not over and we will continue to monitor vote totals before making any formal announcements. The circumstances of this election are unprecedented with a record number of people voting early and by absentee ballot, and we want to make sure that all Hoosiers have their voices heard in this process."
Hamilton and Marion counties finished counting their Election Day votes on Tuesday night. But Hamilton County still had roughly 30,000 early votes yet to count, while Marion County has roughly 99,000 early votes yet to count. It's not clear how many of those votes were cast in the 5th District race. Officials in both counties said they would resume tallying votes on Wednesday morning.
Spartz, meanwhile, was already talking like a lawmaker.
"We have to get a lot of work done. We can work together to bring prosperity, good education, good jobs, good health care to all Hoosiers and all people in our country," she said.
"It will take a lot of us to get it done because it's not an easy task, but I truly believe that American people believe that we are a country of limited government of liberties," she said. "We're a country where, [it's] not the people on top that are going to decide how we're going to live. we're the country where every person can pursue happiness in whichever way they want."
Spartz won with big margins in Hamilton County and other rural counties in the district.
Hale, a former Indiana House member, was maintaining a huge lead in Marion County—by some 28 percentage points—but 98% of the votes had been counted there, according to Marion County election officials.
Roughly a third of the votes in the eight-county district come from Hamilton County, a third from Marion County and a third from the remaining six counties—Boone, Madison, Tipton, Grant, Howard and Blackford counties. Spartz was winning in five of those latter counties with most of the votes counted in each of them.
The nationally watched race attracted a flurry of negative advertisement from outside groups for weeks leading up to Election Day. By the end of October, TV spending alone had reached nearly $12 million.
Spartz, a Ukrainian immigrant, opted to run for the 5th District instead of seeking reelection to her Statehouse seat and won a 15-way GOP primary in June to become the party's nominee. She is also a financial consultant and farmer.
Spartz significantly contributed to her campaign, providing $1.2 million, which raised questions about where her wealth came from. An IBJ analysis of real estate deals she and her family had been involved with found she had earned substantial profits in some transactions while losing money in others.
Hale, a former state lawmaker and candidate for lieutenant governor, won a five-way primary in June to become the party's nominee. She previously worked as chief communications officer and executive director of youth programs for Kiwanis International.
Republicans tried to paint Hale as a liberal politician who would be a rubber stamp for U.S. House Speaker Nancy Pelosi, while Democrats tried to portray Spartz as someone who would strip Hoosiers of health insurance protections because of her opposition to the Affordable Care Act.
In other congressional races:
— Incumbent Republican Greg Pence has been declared the winner in Indiana's 6th Congressional District by The Associated Press, defeating Democrat Jeannine Lee Lake. Pence, the brother of Vice President Mike Pence, represents the district the vice president held from 2003 to 2013. He won his seat in 2018.
— Republican Jim Baird has won reelection to the U.S. House in Indiana's 4th Congressional District, The Associated Press declared Tuesday night. Baird, from Greencastle, faced Democratic challenger Joe Mackey, a retired machinist from Lafayette.
— Republican Larry Bucshon has won reelection to the U.S. House in Indiana's 8th Congressional District, The Associated Press said Tuesday night. Bucshon, who has represented the district since 2011, had sizable leads over Democrat E. Thomasina Marsili and Libertarian Party nominee James Rodenberger.
— Republican Jim Banks has won reelection to the U.S. House in Indiana's 3rd Congressional District, The Associated Press said Tuesday night. Based on early returns, Banks had a sizable lead over Democrat Chip Coldiron.
Please enable JavaScript to view this content.