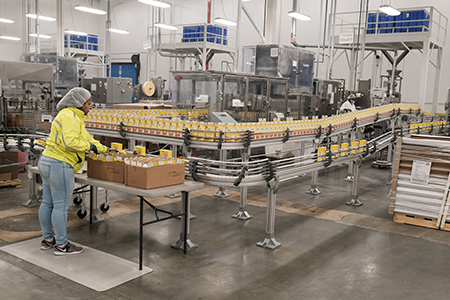 The Carmel-based maker of Splenda sweetener is suing the convenience store chain Speedway LLC for trademark infringement, alleging the retailer offers its customers a knockoff sweetener in yellow packets that look too much like Splenda's packaging.
Heartland Consumer Products LLC filed its lawsuit last week in U.S. District Court in Indianapolis.
In its complaint, Heartland says the sucralose sweetener that Speedway offers at its stores' coffee kiosks comes in yellow packets, with labeling that says the contents were packaged in the United States. Heartland alleges the sweetener was made in China even if it was packaged domestically.
Heartland makes Splenda in the U.S. and uses yellow packaging for the sweetener, and the company said both of these facts figure prominently into its marketing of the product.  Heartland has major manufacturing and distribution facilities in Indianapolis.
"Speedway's yellow-colored packets are not provided to customers with sufficient cues to the consumer to prevent the mistaken belief by consumers that the yellow packets are in fact Splenda brand sweetener," Heartland alleges in its complaint.
This confusion, Heartland alleges, prevents Speedway's customers from either demanding that the chain provide them with Splenda or purchasing their coffee at other stores that do carry Splenda.
Speedway LLC is based in Enon, Ohio, and operates 3,900 stores in 36 states, including Indiana. The company identifies itself as the nation's second-largest chain of company-owned, company-operated convenience stores.
Speedway is a subsidiary of Findlay, Ohio-based Marathon Petroleum Corp., a publicly traded company that operates 16 oil refineries across the nation.
A Marathon spokesman declined to comment on the case, saying that the company does not comment on litigation. Court documents do not identify the attorneys who will represent Speedway in the case.
Heartland is asking the court to find that Speedway has engaged in trademark infringement and false advertising; to order the retailer to destroy all its yellow sweetener packets and stop using this packaging; to require the retailer to disgorge profits related to the sweetener; and to pay Heartland damages, attorney fees and court costs in an unspecified amount, among other things.
Heartland acquired the Splenda brand in 2015. Based on Nielsen Co. research, Heartland says, as of September, Splenda had the largest market share among all low-calorie sweeteners, amounting to 26.6% of a $657 million market.
This is not the first time Heartland has taken its Splenda trademark disputes to court.
The company filed a similar suit against the franchisor of International house of Pancakes and Applebee's in 2017. That suit against Dine Brands Global was settled in 2018 when Dine Brands agreed to begin offering Splenda at its IHOP and Applebee's restaurants.
Heartland also filed a trademark infringement suit against Dunkin' Donuts in 2016. That dispute was settled under unknown terms in 2017.
Please enable JavaScript to view this content.