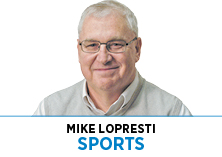 One sunny day in September cast a shadow so vast it would impact us all. Still does, two decades later. On the 20th anniversary of 9/11, here are two examples from sports, from both a native daughter and son of Indiana …
There was a lot of news in the sports world that Tuesday morning. Reports claimed Michael Jordan would announce any moment that he was coming out of retirement, while Barry Bonds' home run total for the season had reached 63. The Philadelphia 76ers had hired a new assistant coach. His name was Mike Woodson. That Tuesday night in Yankee Stadium, pitcher Roger Clemens would be going for his 20th victory of the season, against the Chicago White Sox. The skies were clear above New York City. It would be a lovely evening for a ballgame.
The New England Patriots were talking about the fixes needed after their 23-17 season-opening defeat at Cincinnati, with Drew Bledsoe at quarterback. Their unheralded backup, a kid named Tom Brady, had never gotten off the bench. Coach Jim Mora was reviewing his Colts' season-debut victory at the New York Jets and starting to think about the next opponent. The Denver Broncos would be in the RCA Dome the following Sunday. Notre Dame and Purdue were preparing to face each other on Saturday; IU would host Kentucky the same day. It was to be a big football weekend in the state. Except it never would happen.
In southern Indiana, a little girl named Ali Patberg was celebrating her fifth birthday. Her mother, Julie, had taken her to work at the bank. Later, they were to go to Ali's preschool, with a box of sugar cookies—Ali's favorite sweet treat—for all the kids in the class. But suddenly, everyone was crowding into a bank office to gaze at something strange on television.
"It was, like, me—a little kid—in a room full of adults," Ali says now, a second team all-Big Ten player for IU women's basketball. "It was quiet and people were crying. I just remember I was scared."
She never made it to class. The sugar cookies were never passed out. "My mom tells me all the time I was crying that night because I was afraid something would happen to our house," Ali says.
And from that dark moment on, her birthday would always feel a little different.
In the college town of Upland that day, young Taylor University basketball assistant Chris Holtmann had helped direct a morning workout with the team and then rushed home to his tiny one-bedroom home to take a shower. His wife, Lori, was at work. They had married in 1999, and this day—Sept. 11, 2001—was their second anniversary.
"We had plans to go to dinner that night," he says now, as Ohio State head coach. "Anniversaries should always be special, but they're definitely special when you're newlyweds."
He had the "Today" show on his television. Suddenly, Holtmann could not believe what he was watching. There would be no celebration dinner that evening. "We didn't do anything. We were like so many of us; we were glued to our televisions. We were in shock," he said. "At that point on, we knew that day, which was a really special day for Lori and me, was always going to feel different moving forward. I think we just kind of understood that."
Twenty years. A fifth of a century. Can that be possible? The shocking moments will be relived again this Saturday, for the 20th time. There was 8:46 a.m., when the first plane hit the World Trade Center. And 9:03 a.m., when United 175 came across our TV screens and exploded in a fireball. Also 9:59 a.m. and 10:28 a.m., when the towers collapsed and we watched thousands die.
We will again be reminded of the suddenness of it. As scary and life-altering as the virus continues to be, COVID-19 needed months to grow into a monster. On 9/11, the world seemed to spin out of orbit in one morning.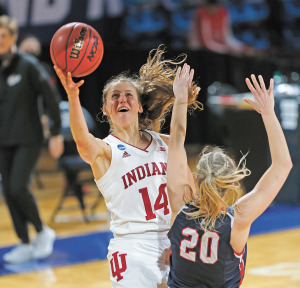 Time has moved on. Patberg is now a graduate student for IU, preparing for her final season with the Hoosiers.
"Even to this day, when I tell someone my birthday, they'll go, 'Oh, I'm sorry.' That's their immediate reaction," she says. "When it was closer to when it happened, it was hard because I always felt bad even celebrating on that day, just because I wanted to remember all the lives that were lost and be respectful and take time to appreciate all the first responders and what they did for those people and us as a country.
"When I was younger, I honestly almost felt selfish celebrating. Still to this day, I make sure that I'm aware and being thankful for that. But also, I think I've grown to realize it's OK to celebrate my birthday and celebrate another year of life."
Holtmann has climbed the coaching career ladder from Taylor to Butler and then to Ohio State. This Saturday will be Chris and Lori's 22nd anniversary, but they will not celebrate it. They never have on Sept. 11, not for 20 years. He won't even put up a "Happy Anniversary" message to his wife on social media.
"For all of us who are old enough to remember it, it's still been so fresh for us, so we've always picked another day in the week," he said. "It's always been a really sobering day."
Remember that sense of unity? Are we too divided now to recall how together we were, amid the dust and debris of lower Manhattan and the Pentagon? Or to remember the post-9/11 feeling of in-flight solidarity among airline passengers and crew? Everyone back then understood that, if someone tried to take over the plane, all we had at 30,000 feet was one another. Now, passengers attack flight attendants over mask rules.
Saturday will be the moment to reflect on such things. There will be various memorials and remembrances, including at a good many sports events. Imagine the emotion when the Yankees and Mets play Saturday night. In 2001, Shea Stadium was the Mets' home, and in the days following 9/11, its parking lots became a staging area for rescue supplies sent to Ground Zero.
For Patberg, her birthday could have been less complicated. "I was actually two days late. I was supposed to be born on 9/9," she says. She kids her mom for delivering late. Her mom kids her back and says she was just stubborn.
And when someone mentions the date of Sept. 11, what does she think of first?
"I'd say 9/11, not my birthday."
We all remember where we were, but for Chris Holtmann, there are two Sept. 11s with significance. "One, I get in big trouble if I don't remember," he says, meaning the 1999 wedding day in Muncie. "That's actually happened once before, and it will never happen again."
He and his wife are like the rest of us of a certain age, old enough to never forget.
They're eager to celebrate 22 years of marriage.
But not on Saturday.•
__________
Lopresti is a lifelong resident of Richmond and a graduate of Ball State University. He was a columnist for USA Today and Gannett newspapers for 31 years; he covered 34 Final Fours, 30 Super Bowls, 32 World Series and 16 Olympics. His column appears weekly. He can be reached at mjl5853@aol.com.
Please enable JavaScript to view this content.