In an effort to take full advantage of the national attention coming to Indiana as it hosts the entire NCAA men's basketball tournament, the state has enlisted some famous Hoosiers and some up-and-coming residents to launch a campaign to show why Indiana is a great place to live, work, study and play.
Former late night TV host David Letterman and ESPN SportsCenter co-host Sage Steele narrate portions of the campaign, with Letterman doing the voiceover for digital advertising that features Hoosiers such as Jerry Lee Atwood, co-founder of Union Western Clothing, which has outfitted celebrities such as Post Malone and Lil Nas X, and Jayne During, owner of Kuaba Gallery in Carmel, which features contemporary art from Zimbabwe and sends a portion of sales to the Kuaba Humanitarian Foundation.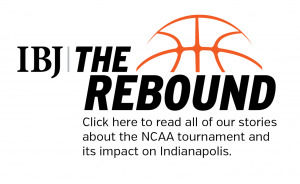 The Indiana Destination Development Corp. announced the campaign this morning in a press release. The effort also encourages current and former Indiana residents to share stories about what makes Indiana great by posting on social media with the hashtag #myINcrowd.
"With March Madness shining a national spotlight on Indiana, we want to showcase diverse Hoosiers from around the state who are doing amazing work," Gov. Eric J. Holcomb said in the press release. "This campaign tells the stories of unique and successful people who call our great state home."
Amy Howell, spokeswoman for the Indiana Destination Development Corp, said the national digital ad buy will stream inside and around NCAA tournament games. She said the entire campaign's cost is $500,000, including $341,000 for the ad buy. Grassroots use of the #myINcrowd hashtag is expected to generate more exposure.
Other Hoosier featured in the video campaign are:
Khaz Brooks, species curator at Wolf Park in Lafayette, which raises awareness and appreciation for wolves and bison and encourages research and conservation.
Sam Koch, founder and owner of Life Skateboards in Muncie, creator of high-performance skateboards..
Oya Woodruff, chef and owner at The TRAP in Indianapolis, who also works to restore food access in urban areas.
Richard Worsham, University of Notre Dame graduate and co-founder of Janus Motorcycles in Goshen, which uses local artisans and local materials to create custom motorcycles.
Please enable JavaScript to view this content.