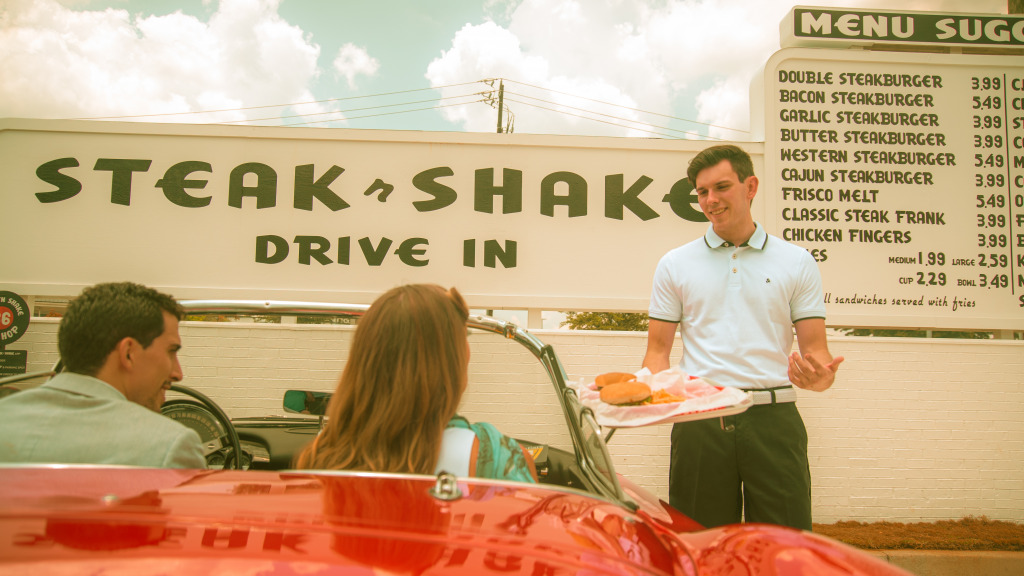 In an effort to drum up more business during the pandemic, Indianapolis-based Steak n Shake is rolling out a modern version of a restaurant service method that was all the rage in the 1950s.
After experimenting with car-hop service in some markets earlier this year, the steakburger chain is now offering it at about 250 of its 500-plus locations, including two dozen restaurants in the Indianapolis area and more the 40 statewide.
Steak n Shake last offered traditional drive-in service in the 1980s before building its service model—and one of its best-known advertising campaigns—around table service with a wait staff. But the struggling chain has become more open to alternative ways to get customers their food, putting more emphasis on drive-thru service over the past decade and converting some of its restaurants to counter-service-only earlier this year.
In the revival of its drive-in service, customers can park on the emblem of a 45 RPM record and use their mobile phone app to place an order. A carhop will bring their order to the parking lot on a tray that attaches it to an open car window.
Customers also can take the food to go or eat it at socially distanced outdoor picnic tables under an umbrella.
"Today's pandemic world has enabled us to revitalize the drive-in experience with renewed purpose," Steve May, senior vice president of Steak 'n Shake, said in written comments. "Our modern version of the drive-in not only reinforces those early days with delivery right to your car—but it also fits perfectly into today's reality, offering our guests a way to enjoy dining out of the house while still protecting their family's health."
Steak n Shake can use a boost in business. The chain, which was already struggling before the pandemic, closed 57 restaurants in the first quarter and suffered a nearly $11 million operating loss.
With its restaurants limited to drive-thru, takeout or delivery nationwide for much of March because of the virus outbreak, the burger chain saw quarterly revenue plummet by $59 million, or 35%, compared with the year-ago period.
The company has yet to announce financial results for its second quarter, which ended June 30, but is expected to later this month.
Please enable JavaScript to view this content.