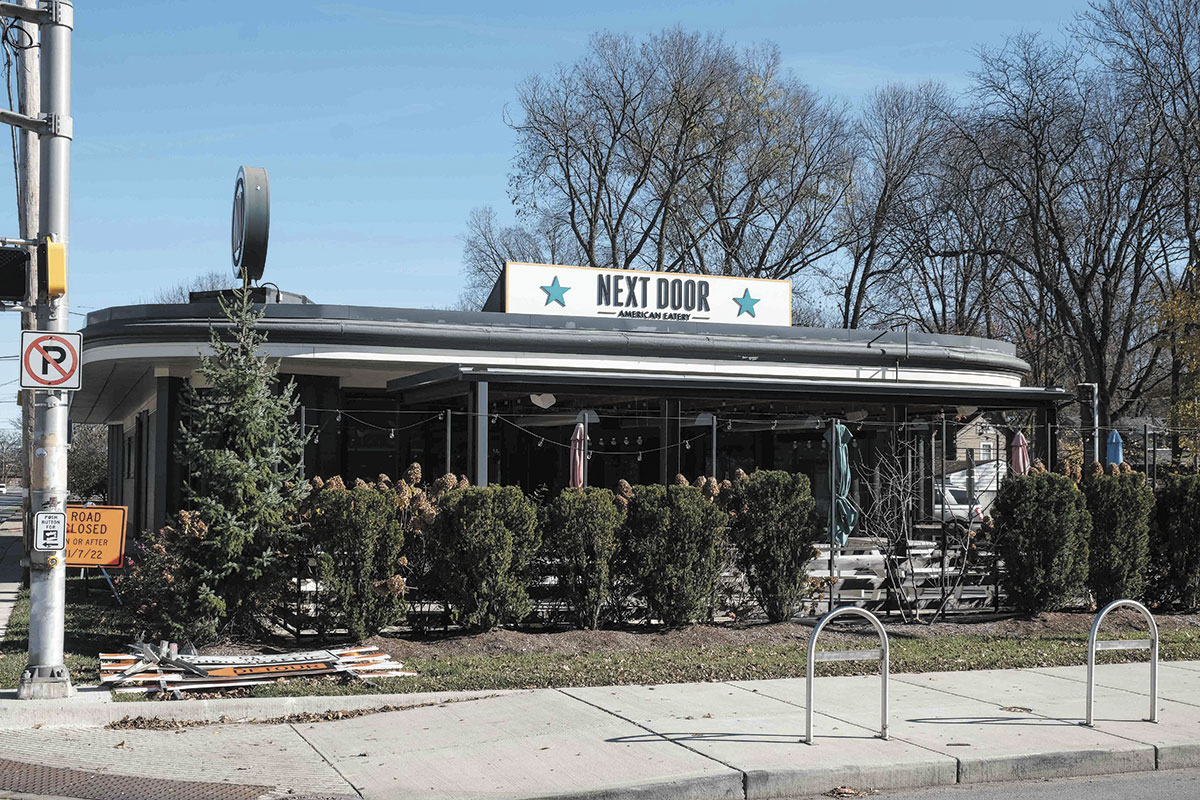 Gallery Pastry plans to open a restaurant in a stylish Meridian-Kessler building next spring, placing the company's elegant confections in a setting that's been a conversation starter at East 46th Street and College Avenue for nearly a century.
Originally a Kroger supermarket in 1932, the Art Moderne building with dramatic curves and horizontal lines was most recently home to Next Door American Eatery and ND streetBar—two concepts co-founded by Kimbal Musk, brother of Elon Musk—from 2018 until earlier this year.
Gallery Pastry Shop, known for its brunch crepes and mimosas, will move from East 54th Street and the Monon Trail to 4573 N. College Ave. The company will continue to have an event space and its catering operations along the Monon, plus its Gallery Pastry Bar in downtown's Wholesale District and Gallery on 16th in the Old Northside neighborhood.
Alison Keefer, Gallery Pastry's owner, said it makes sense to bring colorful macarons and chocolate mousse "pillows" to the 46th and College architectural gem.
Distinctive visuals gave Gallery Pastry its name. Before Keefer and former co-founder Ben Hardy, who is no longer involved in operations, launched the business, they displayed a sampler of their dessert creations for fellow staff members at the Chef's Academy.
"One of our co-workers said, 'It looks like a gallery.' We said, 'Oh, gallery, this is perfect,'" said Keefer, who worked in admissions at the Chef's Academy. Hardy was an instructor at the culinary school that was part of bygone Harrison College.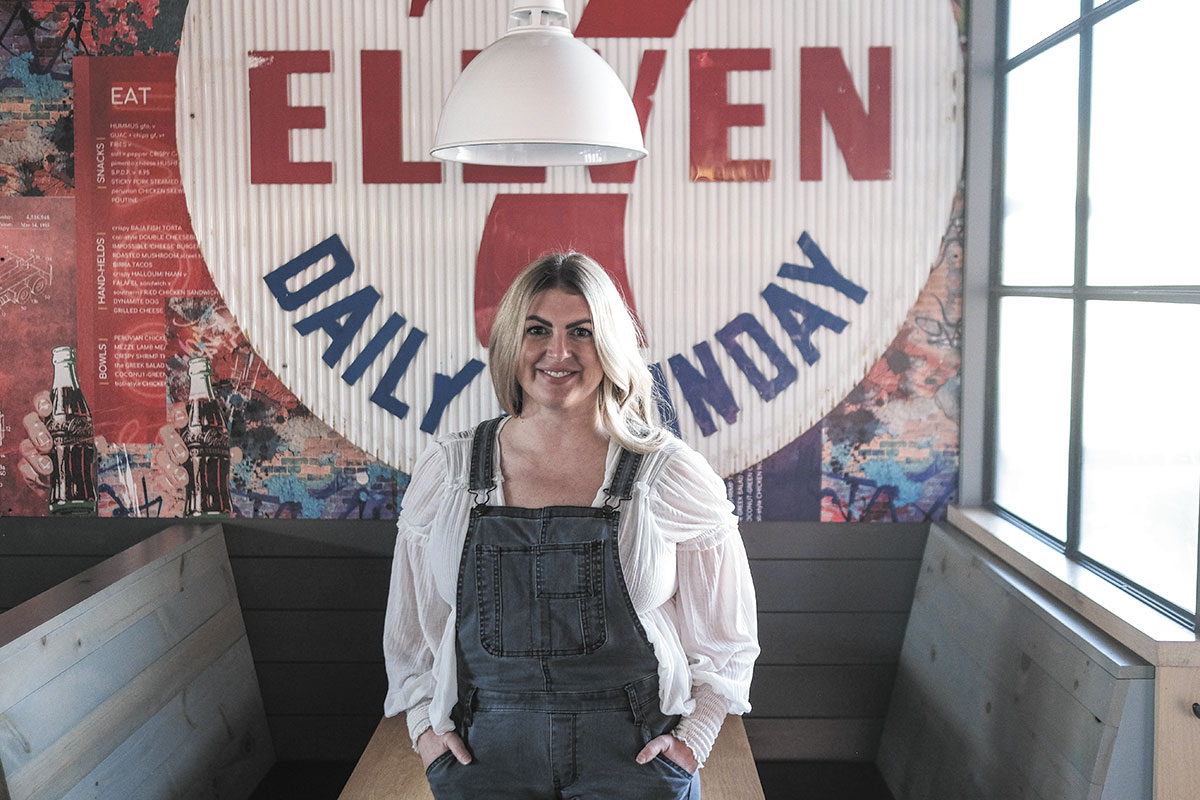 Compared to the 54th & Monon Shops retail center, where Gallery Pastry Shop is tucked at the back of a row of storefronts, the former Next Door building represents a high-profile showplace.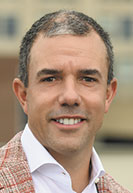 "People have always been attracted to the building," said Eric Gershman, principal of development firm Gershman Partners. "It's a hot topic."
Gershman Partners owns the 46th and College property and renovated it for Musk's Next Door restaurant. The building was vacant from 2015, when a Double 8 grocery store closed, until Next Door's opening in 2018.
Despite Next Door successor ND streetBar's citing workforce challenges and supply chain woes when closing, Gershman said multiple restaurants expressed interest in leasing the building. He mentioned a Red Line stop at the intersection, the appeal of the Meridian-Kessler neighborhood and the building's architectural significance among selling points.
"The structure is great," Gershman said. "The roof is new. Everything in there is new."
Gershman Partners also worked with Musk on Hedge Row American Bistro, the Mass Ave restaurant that debuted in 2018 but didn't reopen after the pandemic's stay-at-home orders in 2020.
Keefer opened Gallery Pastry Shop in 2016 and expanded the business with Gallery Pastry Bar in 2020 and Gallery on 16th in 2021. She oversees the interior decor of each restaurant, including a signature butterfly mural at the original location and Moroccan chandeliers that accent the downtown spot.
"We want to make it as visually stunning as the food that's coming out," she said.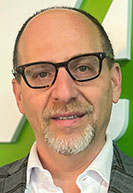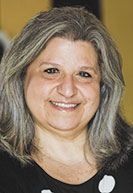 Rosa Hanslits, owner of Nicole-Taylor's Pasta Market & Backroom Eatery at 54th & Monon Shops, first met Keefer when she worked at the Chef's Academy. Tony Hanslits, Rosa's husband, served as the school's executive chef.
Keefer's design skills are part of Gallery Pastry's success, Rosa Hanslits said.
"We have a saying here: 'You eat with your eyes first.' When you see something that you like, you tend to go for it," Hanslits said. "That helps so much when you walk into a place and it's, 'Wow, this is pretty cool.'"
To express interest in the former Next Door building, Gallery Pastry's broker, Gary Perel, principal at ALO Property Group, contacted Meghan DeMars Kiger, executive vice president at Gershman.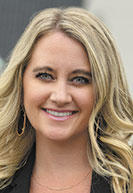 "We know that Gallery Pastry Shop will bring a unique and welcomed vibe to this dynamic corner," DeMars Kiger said.
Monon roots
Aside from aesthetics, there's a practical reason for Gallery Pastry Shop's upcoming move.
Keefer said the 54th and Monon location lacks overhead ventilation in its kitchen, and the installation of a hood isn't in the building's future.
For nearly seven years, the restaurant's staff has prepared entrees featuring croissants, omelets and crepes in a makeshift environment.
"That building was never meant to be a restaurant operating at the level that it has been operating," Keefer said. "We essentially cook everything on a campfire. Small butane burners you buy in the camping section. We have eight of those set up in a row."
Gallery Pastry has occupied two spaces at the 54th and Monon Shops retail center since taking over the former Mass Ave Toys store when that business closed in 2020.
While the public no longer will go to 54th and Monon to visit a Gallery Pastry restaurant, the company will continue to have a presence there with its offices, catering operations and private events.
Perel credited Keefer with growing a successful dining destination at a spot where parking is limited, and the restaurant is out of sight of passing traffic.
"Gallery is taking that location and transporting it to something bigger, better, more visible and more accessible," Perel said. "It's all there."
Transition plans
With a target of opening at the 4,500-square-feet 46th and College building in March, Keefer said she wants the new Gallery Pastry Shop to offer the "same homey feel" customers expect.
One way to provide continuity is to bring along the monarch butterfly mural created by Blice Edwards Inc., Gallery's neighbor at 54th and Monon.
"That's our Instagram wall," Keefer said.
Gallery Pastry Shop also plans to replicate the open-kitchen format that's present at all its restaurants.
Most important, the building already includes a 12-foot hood for kitchen ventilation, not to mention a double stack oven, a grill and fryers.
"I'm excited about bringing our staff to a kitchen at a level they deserve," Keefer said.
Perel said the turnkey aspect of the building designed by Indianapolis firm Pierre & Wright, 20th-century architects responsible for the Indiana State Library and Historical Bureau and minor-league baseball's Bush Stadium, saves money and potential headaches.
"Restaurant development right now is extremely challenging," Perel said. "It's taking probably 50% longer to build restaurants today than it did three years ago. I have restaurants downtown that are a year into construction because of delays of materials."
But while the former Next Door building doesn't need significant renovation, there will be construction nearby that could bring in new customers.
The building is within 500 yards of two planned residential ventures: Monon 46, a 102-unit multifamily project on the south side of 46th Street, and the tentatively titled 46th and Monon, announced in January as 55 town house units on the north side of 46th Street.
Now a solo act
Keefer became sole owner of Gallery Pastry when Hardy exited the company earlier this year.
"Really, nothing's changed," Keefer said. "He's pursuing other career opportunities right now, and the Gallery is going to keep moving forward."
A pastry team at the downtown location executes the Gallery recipes, and Keefer recently hired a culinary director for the company.
Chef Damon Covington began his career in the Navy, and he's taught at culinary schools in Michigan and Virginia. In 2021, he operated the Supper Cooking Academy in Fishers.
Keefer grew up in Fort Wayne and attended Bishop Dwenger High School. Self-taught in the realm of design, she said she seeks inspiration for decor while traveling.
"I think I got sick of all the same flavors that I was tasting and all the same looks I was seeing," she said.
In the pre-Gallery days, Hanslits said, Keefer worked at Nicole-Taylor's Pasta Market & Backroom Eatery as an introduction to the restaurant business.
"Girl power, I'm excited about that," Hanslits said when asked about Keefer's managing Gallery Pastry on her own. "I think she's an incredible businesswoman. I think she's building an empire."•
Please enable JavaScript to view this content.