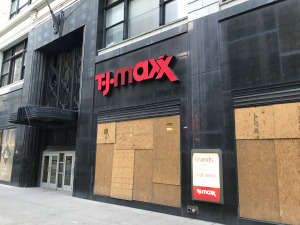 T.J. Maxx's downtown Indianapolis store, which has been closed for nearly a year, is set to reopen on Sunday.
A company spokesman confirmed the reopening date but declined to provide other details.
The clothing and home-goods store, at 50 N. Illinois St., closed last spring because of COVID-19 stay-at-home orders. The store sustained damage during the riots and looting that took place downtown in late May and has remained closed since then.
T.J. Maxx has occupied that location, on the ground floor of the historic William H. Block Building, since 1996. It's one of seven T.J. Maxx stores in the Indianapolis area.
The retailer's corporate parent is Framingham, Massachusetts-based The TJX Cos. Inc., which operates more than 4,500 off-price stores in the United States, Canada, Europe and Australia under a variety of brands, including T.J. Maxx, Marshalls, HomeGoods and others.
The company temporarily closed all its stores in March because of the pandemic and began reopening them in May. By the end of August, the company had reopened the vast majority of its stores, but, by the end of November, the pandemic had forced TJX to re-close about 500 of its stores, mostly in Europe.
Please enable JavaScript to view this content.