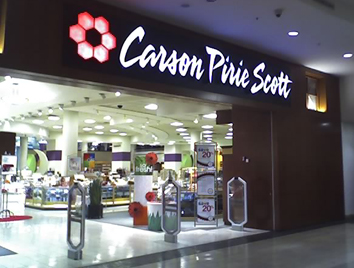 If retailer Target eventually opens a store in downtown Indianapolis, it won't be at Circle Centre.
The Minneapolis-based retailer has ruled out the mall—specifically the former Carson's space with frontage along West Washington and South Meridian streets—as a possible location for a new downtown store, three sources familiar with the matter told IBJ.
Target, which has 11 Indianapolis-area stores, hoped to strike a deal with mall manager Simon Property Group over the past few months, but abandoned those plans when a deal couldn't be reached, the sources said.
Indianapolis-based Simon on Thursday announced it would work with CBRE to find office tenants for the upper two floors of the former Carson's.
Simon plans to market the 45,000-square-foot ground level as three to four spaces for retail, restaurants and entertainment-focused tenants, a real estate source said.
The shopping center giant continues to work closely with the Department of Metropolitan Development and Develop Indy, the Indy Chamber-backed economic development arm for the city, in hopes of attracting new tenants and development opportunities.
"We continue to talk to prospective tenants and interested parties every day about the mall," said Catherine Esselman, senior project manager for Develop Indy. "This is good real estate at the end of the day, and we think we're going to find something that's the right fit for" the space.
Esselman declined to discuss whether Target had interest in the mall. She said the partnership with CBRE indicates Simon is committed to finding the "highest and best uses" for the former Carson's space.
According to real estate sources, Target had hoped to occupy between 25,000 square feet and 30,000 square feet of space inside the Carson's building, specifically on the ground floor.
The retailer has been rumored as a potential tenant for Circle Centre for the past several years and has been seriously considering a store downtown for at least two years—including at the mall—sources told IBJ.
It remains unclear whether Target's decision is tied to the mall's efforts to market the upper floors for office uses, which likely have their own dedicated entrance (and a new elevator shaft) when build-out on those spaces occur.
One source with direct knowledge of the situation said the retailer is still eyeing other spots in the downtown market, but declined to share details.
Target did not immediately respond to a request for comment. A representative for Simon declined to comment.
A source said multiple national and regional retailers—including restaurants—are interested in the space.
The mall is owned by the Circle Centre Partnership, which is made up of nearly 20 companies and investors.
Please enable JavaScript to view this content.