If it's up to local tech firm FuseMe, paper resumes and business cards will be a thing of the past.
The company, which began to take shape in 2017 and was incorporated in late 2018, has created software that allows job candidates to forward recruiters their resume and other information by simply holding their smart phones next to each other. The resume, once in the hands of the employer or job recruiter, continues to update as the job candidate updates it.
FuseMe officials said the company's platform also could work with business cards, although right now the firm is focusing on resumes.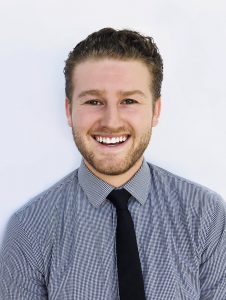 "It's a great way to identify promising students early on and keep tabs on them as they near the time they will enter the job market or even as they progress in their careers," said FuseMe CEO Brodie Meyer.
Meyer, 24, started the company with his brother, Ben, and Jeff Schank, whom Brodie Meyer met while playing baseball for Butler University.
Ben Meyer, 21, who studied computer engineering at the University of Illinois, is the company's chief technology officer and is largely responsible for the "unhackable" patent-pending software that powers the FuseMe system, Brodie Meyer said. Ben Meyer has, for now, left school after his junior year to work full-time on FuseMe.
Schank, 24, who has degrees in finance and entrepreneurship from Butler, is vice president of sales.
The company early on added Eric Davidson as vice president of customer success. Davidson began using the FuseMe app when he was leading Butler's student-run marketing agency and fell in love with it—so much so, that he wanted to work for the company.
FuseMe, which operates in an office in the South Broad Ripple area, closed a $300,000 seed funding round in late July, and Brodie Meyer—who has an economics degree from Butler and a mechanical engineering degree from Purdue University—said the firm could have raised more. The company reports having a $3 million valuation.
"We turned down a dozen angel investors that have reached out to us," Meyer said. "I don't want to be wasteful with investment dollars. We only took what we needed at this time. We're tight on how we spend."
This round of seed funding came from 10 angel investors: nine from Indiana and one from Wisconsin, Meyer said.
FuseMe has no immediate plans to raise any more capital. Instead, Meyer said, the staff is focused on becoming profitable.
FuseMe has "a handful of paying clients," Meyer said, and a number of other employers and recruiters that are trying the system on a trial basis. More than a dozen colleges, including Butler, also are using the app.
Students and job-hunters can download the app for free. Employers and job recruiters pay FuseMe for enhanced functionality, including a job application link.
"It's a B-to-B-to-C play," Meyer said, referring to businesses and consumers. "We sell to employers and job recruiters and they in turn help us get students and prospective employees to download and use the app."
The app also supplies colleges and job fair organizers with data about the success of their career events. The FuseMe app tracks how many people exchanged information and how many of those interactions at a job fair resulted in interviews and jobs secured.
"We think this software could be run on every college campus in the country," Meyer said. "This can be a sizable company without a doubt."
FuseMe does have competition, but Meyer said his firm is different.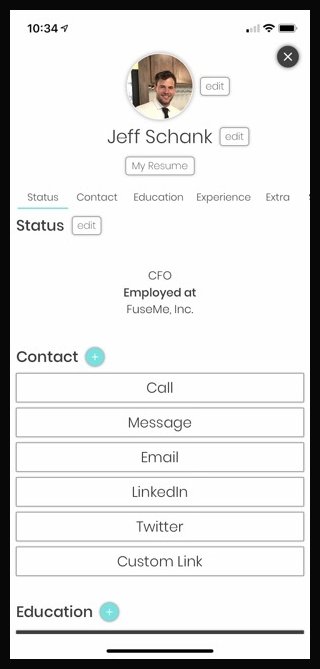 "The differentiator is the fusing technology," Meyer said. "Our fusing software allows for an immediate cloud-based connection rather than a data transfer. That allows the information to always remain synched up."
Meyer declined to discuss the technology that he says makes FuseMe's software unhackable.
While the company is not yet profitable, it is hitting its revenue targets, Meyer said.
"We're very profit focused. That was instilled in [me and my brother] growing up," Meyer said. "With this round of funding, we would like to become a sustainable, profitable business."
They Meyer brothers, who hail from Illinois, grew up watching their father run the Chicago-based printing company, M&G Graphics, which their grandfather started.
"We learned a lot about running a successful business through the printing company," Brodie Meyer said.
That's not all they learned. The Meyer brothers taught themselves how to code and developed software for the family's business. Brodie said Ben is "a natural" with computer hardware and software.
"He leads the technical side of the company. This is his thing, and I completely trust him," Brodie Meyer said.
Most of FuseMe's clients are in the Midwest, but with this funding round, the company plans to hire up to 10 employees in sales and engineering over the next 12 to 18 months and start national expansion.
"We're beginning to scale sales outside the state. We have business in Ohio and South Carolina now and we need to prepare for a wider national expansion," Brodie Meyer said.
Even though FuseMe's three founders are all Illinois natives, they immediately knew they wanted their company headquartered in Indianapolis.
"We definitely saw and learned what the tech scene was like here and fell in love with it," Meyer said. "No one shut the door in our face. I learned something new from everyone within the tech sector I met here. We thought this place is great. We have to stay."
When laying the foundation for FuseMe, the three founders came up with a unique way of getting advice.
"We started a podcast called 'We Hate Business Cards Radio' and invited people in the local tech community to be our guests on the show," Meyer explained. "So we interviewed all kinds of tech people, people we had no business getting access to, and we got all kinds of free advice."
Please enable JavaScript to view this content.