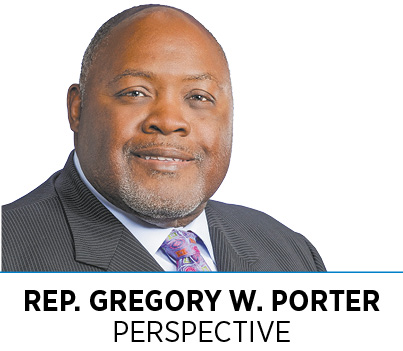 It has been a little over a year since Indiana discovered its first COVID-19 case. Every day since, I've heard from families and constituents across the Hoosier state about just how hard this year has been. Help is finally here. It is now up to the state to get relief into the hands of those who need it most.
To maximize the impact of this historic aid package, the Indiana General Assembly must consider the impacts of this additional money while crafting the state biennial budget. The strategic integration of the American Rescue Plan with House Bill 1001 could finally provide long neglected human infrastructure initiatives with a semblance of meaningful and sustainable funding, keeping Biden's promise to "build back better."
The stimulus already allots money for issues like broadband, water infrastructure and education learning loss, making the state's current budget plans redundant. The $500 million planned to come out of Indiana's general fund is now freed up and should be strategically invested to help the countless Hoosiers, including low- and middle-income families, small business owners, students, parents and workers hit hardest by the pandemic.
We were facing concurrent crises in public health and wealth inequality before the virus first visited our state, and this shot in the arm of funding can create lasting and equitable change. During the last decade of Republican majority rule, Indiana has provided billions of dollars in tax relief and economic development subsidies to major corporations, while willfully neglecting the needs of everyday Hoosiers.
Indiana routinely has some of the poorest health statistics in the nation. Indiana routinely produces terrible health care outcomes for infants, pregnant mothers and minority communities. Indiana routinely grapples with providing affordable and accessible childcare and pre-K. Indiana routinely loses talent and college educated students to states that can provide more.
I would like to see this money go to the health and human services initiatives that invest in the human infrastructure of our state. It would do Indiana well to see $500 million invested in the Minority Health Disparities Alleviation Trust Fund. It would do Indiana well to invest in comprehensive child care and pre-K. It would do Indiana well to increase opportunities for overworked family caregivers. It would do Indiana well to add capital investment for our essential workers. It would do Indiana well to direct the remainder of unspent American Rescue Plan money to hazard pay programming.
The Hoosier State would needlessly suffer if the Republican supermajority remains true to form and continues to direct scarce resources to programs like untested and unproven tax relief programs that do not produce the jobs, investment and way of life they have purported. Let's change this pattern of ill-advised corporate investment and reinvigorate the human capital of our state—they are who we serve at the end of the day.
Indiana, 'A State That Works'—for whom?•
__________
Porter, an Indianapolis Democrat, is the ranking minority member on the Indiana House Ways and Means Committee.
For more perspectives, click here.
Please enable JavaScript to view this content.