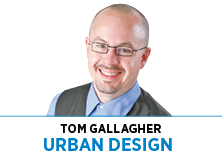 A recent visit to Columbus, Ohio, validated what I've been speculating—that Columbus has vaulted past us in terms of downtown vitality and refinement.
Though I have lived in Indy for about half my life, I grew up in Columbus and I've seen the changes in both cities, particularly as they matured over the last 30 years.
I used to say that Indy had a stronger downtown and that Columbus had many robust historic urban neighborhoods; together they would make one great city. Now, in my observation, Columbus has made up the gap in its downtown while making its neighborhoods even stronger.
Drawing comparisons between Indy and Columbus has always been easy and useful to the extent that they are similarly sized Midwestern cities with nearly matching climates and cultures. That means that whatever advantages one enjoys over the other are the result of specific actions. Columbus appears to have made a few worth noting.
◗ First, Columbus has capitalized on the Scioto River. Like the White River in Indy, the Scioto, being too shallow for commerce, has over the years been dammed, dredged and shaped, contained by levees and subject to combined sewer overflows. However, city planning led to a more direct involvement of the Scioto in the civic life of Columbus, even if only visually.
Now, the river district's new bridges, promenades, riverside parks and plazas, and enhanced access to the river's edge are significant and continue to stimulate development in adjacent neighborhoods.
◗ A few other projects stand out: the Arena District and South Campus Gateway (just Gateway today), both of which are significant catalysts for their neighborhoods. Likely more serendipity than strategy, they also touched off a chain reaction throughout the two-mile corridor between them, bringing a varied mix of housing types in a wide range of attainability levels, improved walkability and public realm and renewed civic amenities like a new public library that anchors a prime "main street" location.
What makes these projects particularly significant, though, is they were each initiated, funded and implemented by institutions that are among the largest employers in the city.
For the Arena District, it was Nationwide Insurance, which has been headquartered in downtown Columbus since 1974. Typical of corporate development of its time, Nationwide's offices were fortress-like. The office towers were setback far from the street, entries were distant from the public sidewalks and while it brought many people to the northside of downtown, it primarily held them inside throughout the workday. Despite being the northern anchor of downtown and just a block from the convention center, the area around the headquarters was less than hospitable and included a vacant state penitentiary built in the 1800s.
In 1997, recognizing that the area was an impediment to the city's image and attractiveness to potential employees, Nationwide made the self-aware and confident step of taking responsibility for the transformation of the area, beginning with the purchase of the penitentiary property and establishing a forward-looking master plan. The district is now more than 75 acres and anticipates nearly a billion dollars of additional private investment as it continues to draw corporate headquarters and residents. Under construction is a new venue for the Columbus Crew Major League Soccer team.
The institutional benefactor for the Gateway project, completed in 2007, was Ohio State University. It has become commonplace for universities to instigate redevelopment on their peripheries. What makes this project noteworthy is the strategic partnership between the university and the not-for-profit development corporation, Campus Partners, which acted as master developer, fundraiser and community liaison. It carefully navigated the redevelopment of one of the city's poorest neighborhoods.
These examples demonstrate that city-making is a long-term endeavor, one that demands patience, persistence and perseverance. It also takes a champion—preferably one that is more than just a vocal advocate but has skin in the game.
Ultimately, the advances made in Columbus are more than just collections of land uses for the purpose of economic development. Columbus has focused on key projects with an attention to detail and quality of materials that result in vital places that are catalysts for additional development. The energy in Columbus is palpable.
Indy has the knowledge, the ability and no shortage of potential catalyst projects that, thoughtfully executed and with the right partners in place, could set the bar for our next 100 years. Next month I'll discuss some of those opportunities.•
__________
Gallagher is a principal and urban designer with Ratio and a professor-in-practice at Ball State University. Send correspondence to TGallagher@ratiodesign.com.
Please enable JavaScript to view this content.