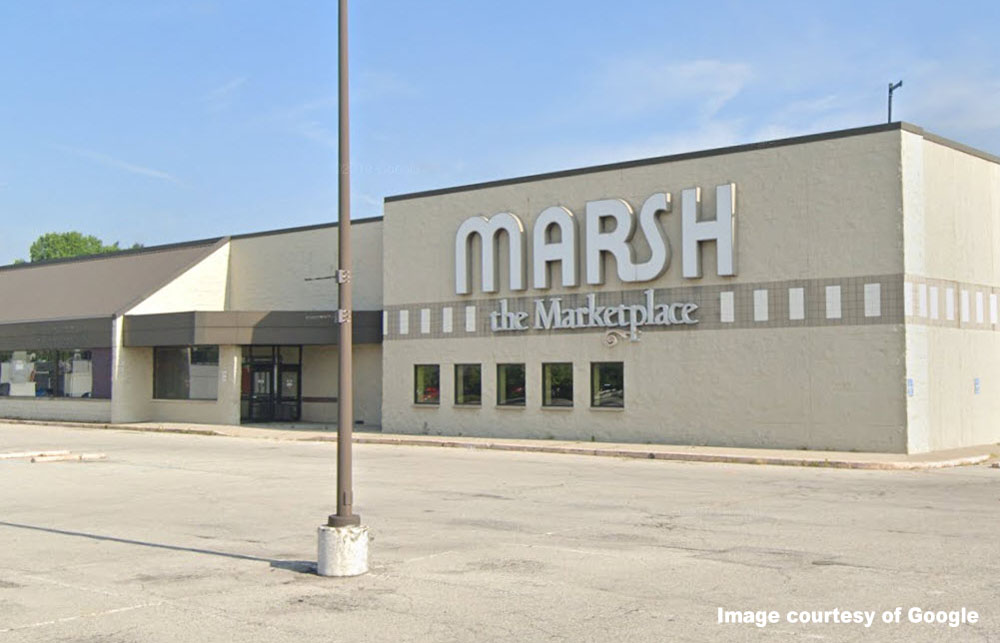 Another former Marsh Supermarkets property is heading toward a new use as its recent buyer expands its presence in the Indianapolis area.
Fast-growing Traders Point Christian Church has acquired the vacant Marsh grocery property in Broad Ripple for $7.6 million and plans to use it for its new Midtown campus.
The sale of the 6.6-acre property, which closed Dec. 26, included the 57,000-square-foot store building at 2350 Broad Ripple Ave. and parking lots to the north and south, according to Marion County Assessor's Office records.
Traders Point, which has several church campuses around the Indianapolis area, plans to launch its Midtown congregation on Jan. 19, using the Glendale Seventh Day Adventist Church at 2900 E. 62nd St. as a temporary site. The campus is about two blocks east of the Marsh site, which will become the Midtown campus' permanent home in 2021.
Jill Van Nostran, communications director for Traders Point, said redevelopment of the former Marsh will begin March 1. The project will include creating an 800-seat auditorium, as well as spaces dedicated to children and teens.
The church also intends to set aside space for community outreach related to its work with foster-care issues. The Midtown campus is expected to be finished in 2021.
The Broad Ripple supermarket was one of 18 stores closed by Marsh in mid-2017 as part of the company's bankruptcy plan after the properties failed to sell at auction. The store was built in 1996.
Several vacated Marsh stores have found new uses in recent months.
— Indianapolis-based developer Strongbox Commercial announced last month that it planned to spend $7 million to partially demolish a former Marsh property at 96th Street and Lantern Road in Fishers and prepare the remaining building for a new tenant, as well as construct a separate retail building on the site.
— Workout chain L.A. Fitness said in November that it planned to open a new Indianapolis gym next year in a portion of the former Marsh grocery store at 5151 E. 82nd St. The site is just west of Allisonville Road in the Clearwater Springs Shopping Center.
— Indianapolis-based Prime Site Brokers said in November that it planned to convert a former Marsh store at 285 Morton Ave. in Martinsville into 39 apartment units as part of a $3 million redevelopment project.
— Shelbyville Central Schools opened a consolidated preschool late last year after the former Marsh at 1115 E. State Road 44 underwent a $13 million renovation. The project included a 15-classroom school and new administrative offices.
— Aldi opened a 22,000-square-foot store late last year in the Clearwater Springs shopping center in a former Marsh store at 5151 E. 82nd St.
Whitestown-based Traders Point Christian Church traces it roots to 1834, when it began as a 10-member congregation in Indianapolis known as Ebenezer Christian Church. It moved to the Village of Traders Point in 1886 and officially changed its name.
The church began an expansion plan in 2016 and added a site in Carmel. It since has added campuses in Avon, Broad Ripple, downtown Indianapolis and Fishers.
The Fishers campus will formally launch on Feb. 23, using temporary quarters in Fall Creek Intermediate School. The church is trying to secure a permanent location in the area.
Please enable JavaScript to view this content.