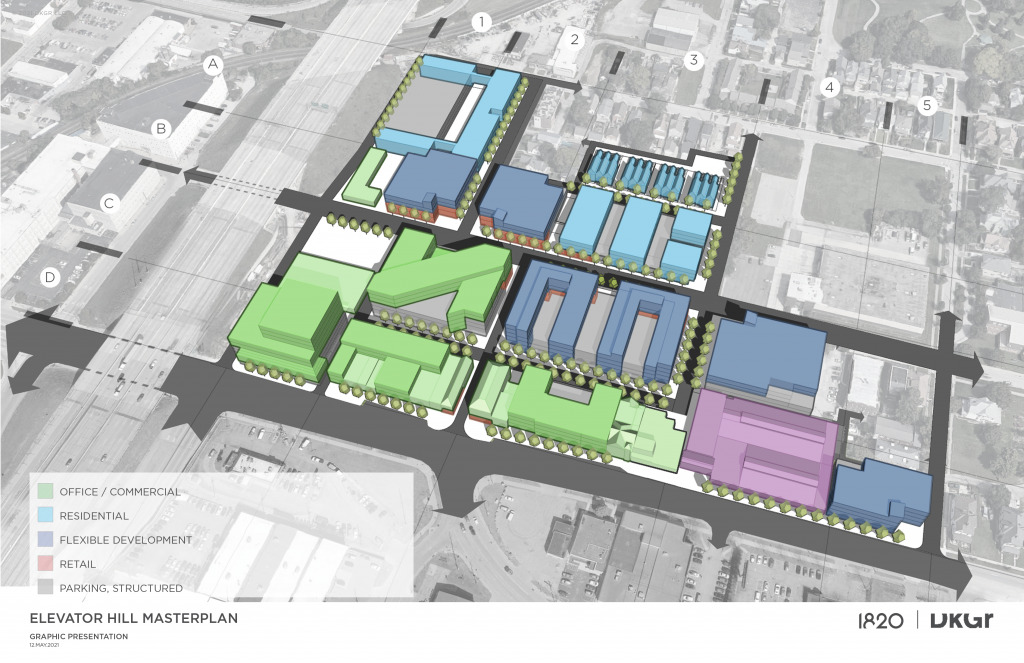 The former Angie's List campus on the near-east side of Indianapolis could see up to $250 million in investment over the next 10 years as part of an ongoing effort to revitalize the 13.5-acre property that has seen staggered use since it was vacated by the company in 2018.
Preliminary plans call for the construction of new office structures, multifamily properties, retail space and parking garages to fill in most of the site, now known as Elevator Hill. The plans were presented Wednesday during a pre-meeting session of the city's Metropolitan Development Commission,  in which city staff and the developer, 1820 Ventures, discussed extending the downtown tax-increment financing district to the property.
1820 Ventures, a firm started last year by former Milhaus executive Jeremy Stephenson, is the project's master developer. IBJ reported in March that the company plans to break ground on its first apartment property on the site—an $18.5 million, 103-unit project in the 1100 block of Market Street—by the end of the year.
Elevator Hill is owned by former Angie's List CEO Bill Oesterle and a group of nearly a dozen other individuals. It is largely a hodgepodge of nearly 30 buildings and 6.5 acres of surface parking lots. Its current tenants include Circle Kombucha, Ball State University's College of Architecture and Planning, Meticulous Design and Architecture, and Advanced Agrilytics.
Stephenson said some existing structures—such as dilapidated homes and irreparable, non-historic structures—could be demolished to make way for new construction, but those plans have not been finalized.
The redevelopment of the site is expected to occur in phases, with 1820 likely to seek city incentives for various components of the project. Stephenson told IBJ it's too soon to know exactly how many buildings would be constructed as part of the development. 
The initial proposal calls for:
— Up to 375,000 square feet of office space, some of which could connect existing and new structures, with a ballpark investment of at least $90 million;
— New neighborhood retail amenities, totaling about $7 million;
— Up to 500 units of multifamily housing (at least $90 million) and more than 20 units of single-family housing ($7 million);
— Parking garages containing at least 1,500 spaces, an investment of $40 million;
— and extensive street improvements, at least some of which may be paid for through TIF or other city funding mechanisms.
Soft costs and investment in existing buildings are included in the proposed $250 million investment.
The Metropolitan Development Commission is expected to consider 1820's request to add Elevator Hill to the downtown TIF district during its June 2 meeting, but approval would only establish mechanisms for the site to receive funding—not specifically allocate tax dollars to the project.
Stephenson said 1820 is still in the early stages of conversation about what incentives for the project would look like, and has not yet finalized a timeline for when it will request funding, or how much it may ask for.
Scarlett Martin, director of the city's Department of Metropolitan Development, said moving ahead with adding the property to the downtown TIF gives the city an opportunity to consider the "larger vision" for downtown and how the near-east side is incorporated into its plans.
"Our primary goal is to look at what infrastructure activity is needed to support that development," she said. "Expanding the downtown TIF allows us to leverage [its] strength and provide that connectivity over to this district."
Stephenson said the more detailed plans for the Elevator Hill site are expected to be made public in the coming months as 1820 works with the site's master planner, local firm DKGR, on determining what parts of the site will work best for the first phase of development.
"That's the evaluation stage we're at now—to determine what's the next phase of the project," he said. "We want to have a near-term activation plan to think through how to start to build that campus and at the same time, plan for the future."
In addition to Oesterle, Elevator Hill's ownership group includes former Angie's List investors John Chuang, Peter Coolidge, Steve Kapner and Henry Hauser. John Thompson, chairman and CEO of Thompson Distribution Co., and Ben Ledo of trucking company JAT Fort Wayne are investors, as well.
And IBJ Corp. co-owners Bob Schloss, Nate Feltman and Mickey Maurer—who was an Angie's List board member—each have stakes in the project.
Please enable JavaScript to view this content.