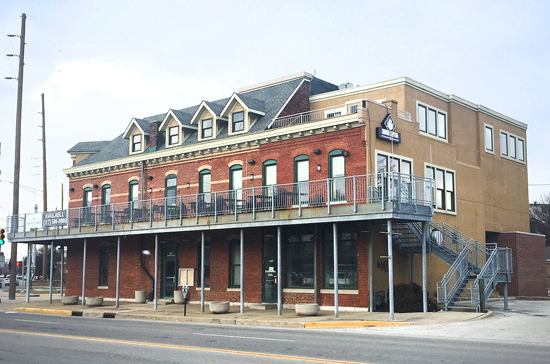 The COVID-19 pandemic has forced the Kurt Vonnegut Museum and Library to seek out new options for its planned cafe because the museum's original choice of operator says it can't tackle a new project right now.
When the museum opened at its new location, 543 Indiana Ave., in November, it planned to open a 690-square-foot, ground-floor cafe managed by Ed Battista, owner of the award-winning Bluebeard restaurant in the Holy Rosary neighborhood near downtown. Bluebeard took its name from one of Vonnegut's novels.
The cafe was to be called Rosewater, an ode to the Vonnegut novel "God Bless You, Mr. Rosewater, or Pearls Before Swine," written in 1965, featuring fictional U.S. Sen. Lister Ames Rosewater of Indiana.
Battista said he's still interested in the project, but doesn't think now is right time because of all the uncertainty surrounding the pandemic.
"To try to expand into (the museum) at this point doesn't make sense," he said.
Bluebeard is operating with outdoor dining only at this point, Battista said, and he worries what will happen when cold weather sets in.
Battista is also an owner of the Kan-Kan Cinema and Brasserie, an arthouse theater and restaurant that was on the verge of opening in the Windsor Park neighborhood when the pandemic hit. Those plans have been postponed.
In the meantime, the Vonnegut Museum is eager to get a cafe open as soon as possible.
"We need that income," said Julia Whitehead, the museum's founder and CEO.
The museum reopened to visitors last month by appointment only. It's hoping to fully open next month, once it completes construction of a new Indiana Street entrance. The existing entrance, on the north side of the building, is too cramped to allow for adequate social distancing.
The museum also is working to relocate its tiny second-floor gift shop to a larger 250-square-foot space on the first floor.
The new plan for the cafe, Whitehead said, is to bring in a different operator who could get up and running right away.
"We're having conversations with multiple coffee shops and restaurateurs right now," she said.
Whitehead said her preference would be a local operator, but the museum is also considering large chain operators.
One likely scenario, she said, is that the museum would sign a short-term lease with an operator who would then exit the space once Bluebeard is ready to take over. But nothing is certain yet.
"It's a challenging time for us, because we don't know how this will go," Whitehead said.
She said she hopes to have the cafe open by Sept. 27, though she concedes that may be a "ridiculously optimistic" goal.
Sept 27-Oct. 3 is Banned Books Week, and the museum has a full slate of in-person and virtual events planned to commemorate the occasion.
Please enable JavaScript to view this content.