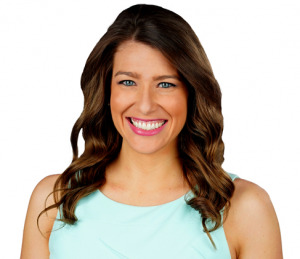 Alyssa Raymond, a weekend anchor and weekday reporter at WTHR-TV Channel 13 for the past three years, is leaving the station to take a job in her hometown of Pittsburgh.
Raymond said goodbye to viewers during her last day of work at WTHR on Sunday.
In addition to anchoring "Weekend Sunrise," Raymond served as a fill-in anchor during weekdays. She also started and hosted a regular feature segment called "A Ray of Sunshine," which focused on inspirational stories.
Raymond said she would be working for WPXI-TV Channel 11 in Pittsburgh, which is an NBC affiliate like WTHR.
Raymond previously worked at stations in Winchester, Virginia; Little Rock, Arkansas; and Cleveland. She was working as a freelance reporter in Pittsburgh just prior to taking the job in Indianapolis.
"For the last three years, I've called Indianapolis home and have grown to love this city," Raymond said on Facebook. "The one piece that's missing, though, is family, and this year that missing piece was more apparent than ever. … My entire family lives in the Steel City, and I've decided to move back home."
Please enable JavaScript to view this content.