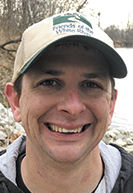 Indianapolis-based not-for-profit Friends of the White River announced Thursday that it's moving ahead with plans to fund public access to the waterway while it waits for the official go-ahead from state and local entities on a downtown project.
The group is launching an annual $15,000 fundraising campaign to help pay for gravel parking lots, access roads, signage, security lighting and cameras, and boat ramps for areas along the White River in Hamilton, Marion and Morgan counties.
"There's huge portions of the White River that you can't get on because it's been ignored for decades," Executive Director Scott Salmon told IBJ.
The campaign, he said, "is to provide public access to the White River, wherever we can get it to happen," for paddling, fishing and boating.
The group's priority is a site on the near-west side of Indianapolis—across the river from 16 Tech and abutting an over-river CSX rail line—dubbed River Station.
Friends and several other groups have ambitious plans to turn River Station and its attached half-mile trail into a community-oriented recreational destination.
"For decades people have wanted to get on the White River downtown and it's really hard to do that. And the best place there is is River Station," Salmon said.
River Station's depth makes it a rare downtown access point for motorized boats, according to Salmon. Much of the White River is navigable only by small, non-motorized craft like kayaks and canoes.
Salmon said he hoped to get a start on the River Station plans this summer, but delays could push the project back to next summer.
"It just all takes time … when you have that many entities working together," said Luke Rains, maintenance supervisor for public access at the Department of Natural Resources' Division of Fish and Wildlife.
The Department of Public Works owns the parcel, according to spokesman Ben Easley, but still needs to determine where that land officially ends and where the river starts.
Friends has offered to pay for a land surveyor out of its operating funds in a bid to speed the process. The completed legal description would enable Fish and Wildlife and Indy Parks to get a lease to build the public access site.
Easley said DPW owns the site for levy and flood control purposes, and because the public access project isn't related, that Indy Parks would take on management and maintenance.
After the lease, the project would also need permits. Rains said DNR's Division of Fish and Wildlife would handle them.
"This is a project we're super excited about," Rains said. "… I think it's going to be really good, add some value to downtown as far as recreation opportunities, and that's a big deal for the division and for the city."
Please enable JavaScript to view this content.