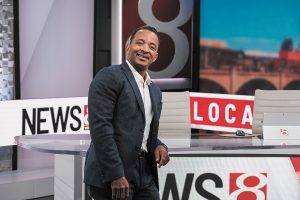 DuJuan McCoy, owner of Indianapolis-based Circle City Broadcasting—which operates WISH-TV Channel 8 and WNDY-TV Channel 23—is teaming up with Atlanta-based Cox Media Group to launch Multicultural News Network, which is being billed as "a non-partisan, national news network that will bring an unbiased national forum for the voices of America's underserved multicultural communities."
The news network will launch in the second half of 2021, and McCoy said 150 people will be hired to work out of WISH's Indianapolis headquarters to make it happen. The vast majority of those hires will be made by late next year, he said. The network will be supplemented by some existing employees at the companies involved.
"This will be a separate cable news network, just like Fox News and CNN," McCoy told IBJ. "This could be huge for the city. This will likely put Indianapolis on the map as a Midwestern media destination."
McCoy, who acquired WISH-TV and WNDY-TV for $42.5 million last year, declined to say how much is being invested in MNN.
MNN will produce live, daily news and other programming aimed at multicultural communities including Black, Hispanic, LGBTQ, Asian, Native American, people of Middle Eastern descent and others, Circle City and Cox officials said. Much of MNN's content will be produced and delivered by multicultural communities "to ensure their authentic voice is being heard on a regular and national basis," an MNN statement said.
"CMG strongly supports increasing diversity in media and providing authentic, unbiased platforms for underserved voices to be heard," Cox Media Group Executive Chairman Steve Pruett. "We … look forward to helping change and diversify the landscape of news in the U.S., which is the objective of MNN."
McCoy will serve as MNN's chairman and CEO. MNN plans to utilize stations, newsrooms and news bureau resources in dozens of markets across the U.S. including Washington D.C.
The exact launch date, advertisers, sponsors and distribution partners will be announced in the near future, MNN officials said.
"MNN has been in development for a few years, and I am very excited to make this announcement alongside many valued and supportive partners," McCoy said in a written statement. "We believe MNN will change the way Americans view news while providing a national platform for many underserved, diverse communities that are voiceless in America's current national news media landscape. Numerous multicultural communities will now have a regular platform for their stories and perspectives to be heard. Additionally, I believe MNN can become for the city of Indianapolis what CNN became for Atlanta."
Please enable JavaScript to view this content.