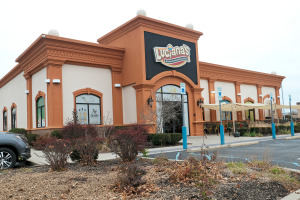 It's nearly time for Peter Bosworth to spend a few weeks frying tortilla chips at Luciana's Mexican Restaurant and Cantina.
Bosworth, pastor of Abundant Life Church at East 82nd Street and Hague Road, has a tradition of helping in the kitchen every time Luciana's opens a new location.
And it's about to open its sixth—this one near the intersection of 96th and Meridian streets.
Bosworth is the grandfather of 7-year-old Luciana Bravo, namesake of the restaurant founded by Alberto Bravo, Bosworth's son-in-law, and Sarah Bravo, Bosworth's daughter.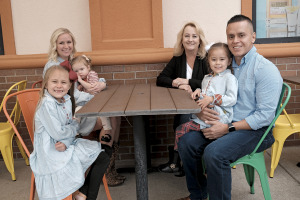 And while Bosworth holds an informal "good luck" role in the company, other family members are full-time staff members. Two of Alberto's brothers, David and Daniel, manage Luciana's locations. Debbie Bosworth, Peter's wife and Sarah's mother, works as operations manager for the business that launched in 2015 with a Broad Ripple restaurant.
Debbie Bosworth, who previously managed employee scheduling and payroll for Indiana University Health North Hospital, became a Luciana's employee after Alberto and Sarah opened their second restaurant, in the Clearwater Crossing shopping center, in 2016.
"I believe in my family more than anything," Bosworth said. "When they called me, I said, 'OK.' I have no regrets."
The newest location is expected to open early next year.
Kelli Ibanez, co-owner of Fishers-based Libertad Properties and the broker who works with Alberto Bravo when he seeks new spots for restaurants, said she believes in the potential of the 96th and Meridian building, where Paradise Bakery & Cafe and Newk's Eatery once served customers.
"I think that's a location that needs high-quality Mexican food," Ibanez said. "I think you're pulling from a lot of different areas. It's right on the border of Carmel and Indianapolis. I think it's perfectly centrally located."
And Bravo, 39, is building a reputation for making Luciana's sites successful after other restaurants didn't stick around. At each of the six locations, more than one dining concept came and went before Luciana's opened.
A native of Mexico who moved to Indiana as a teenager, Bravo said he relies on intuition when deciding where Luciana's should expand.
"It's just a feeling that I get," Bravo said. "I could go with one of my managers to a place and they might say, 'Oh, this is a great location.' But if I don't feel it, I say, 'I don't think this is going to work.'"
Ibanez said Bravo is unlike any of her other clients.
"I have shown him a lot of different properties over the years," she said. "If he doesn't feel it, we just walk away. I've grown to trust him."
Luciana's employs more than 130 people, and another 30 are expected to be hired for the 96th and Meridian location. Husband-and-wife team Alberto and Sarah invested their personal savings to launch the fifth Luciana's, a Traders Point location that opened in February 2020, less than a month before pandemic stay-at-home orders were issued.
Alberto said Luciana's locations made it through the pandemic because of support from customers and employees.
"I've listened to what my instincts tell me, and it's worked out so far," he said.
Take the Luciana's Clearwater Crossing location, which he'd been eyeing before he stepped inside the door six years ago.
Although restaurants Uno Chicago Grill, Oobatz! and Amazing Joe's Steak House had cycled through the building east of the White River on East 86th Street, Bravo said the location was ideal for the second Luciana's.
"I had customers tell me, 'This place is cursed. Nothing makes it here,'" he said. "I still did it. I know what we have. I know what we can do. I think wherever we go, we're going to make it happen."
Luciana's in Columbus and Greenwood followed in 2017 and 2018, respectively.
A dream realized
Mexican cuisine, defined by ingredients such as beans, rice, tomatoes, cheese and avocados, is a substantial and growing segment of the restaurant industry—and that growth doesn't appear to be slowing down.
According to analytics company Brizo FoodMetrics, more than 73,000 Mexican restaurants operated in the United States at the end of 2020. That number represented 11% of all U.S. restaurants.
In a report this June, market research company Technavio projected that the Mexican food market will grow globally by $113 billion from 2021 to 2026. North American countries Mexico, Canada and the United States will account for 58% of the market's growth during that time frame.
Alberto Bravo's history with Mexican restaurants began when he worked at one in Brownsburg. He then was hired as a server and eventually became manager at a La Hacienda restaurant near the intersection of East 71st Street and Binford Boulevard.
Peter and Debbie Bosworth dined at La Hacienda twice a week, and Debbie once used tableside small talk to pose a crucial question to Alberto.
"I asked him, 'What are your goals? What are your dreams for your future?' He said, 'Someday I would like to have my own restaurant,'" Bosworth said.
Sarah, who attended Lawrence North High School and has a career as a sign language interpreter, met Alberto during one of her family's visits to La Hacienda.
By 2015, the couple had married and become parents to Luciana, who was an infant in a "pack and play" crib tucked behind the counter during the early days of the original restaurant.
Luciana, now 7, is the older sister of 4-year-old Natalia and 2-year-old Cecilia.
"In order to be successful in life, you need somebody to believe in you," Debbie Bosworth said. "You have to believe in yourself, but you need someone to believe in you. Sarah believed in Alberto and his dreams. And then we as a family believed in him."
Popular cuisine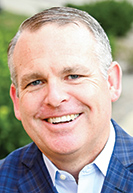 Patrick Tamm, president and CEO of the Indiana Restaurant & Lodging Association, said Luciana's thrives because of connections made with customers and the neighborhoods where the restaurants operate.
"The restaurant industry exemplifies where people with hard work and determination—and a lot of risk—can be successful," Tamm said. "That's what is best about America."
Tamm noted that family-owned restaurants faced daunting challenges during the pandemic, but he said the businesses also displayed adaptability and perseverance.
"Great success isn't dumb luck," he said. "It happens because of hard work."
It also means knowing how to adapt to competition—and there is plenty of competition not just in the restaurant industry but in the Mexican specialty.
Down the street from the first Luciana's at 1850 Broad Ripple Ave. are no fewer than seven Mexican restaurants:
◗ Caliente Mexican Grill, 1035 Broad Ripple Ave.
◗ Chipotle Mexican Grill, 1002 Broad Ripple Ave.
◗ Cholita Taqueria, 1001 Broad Ripple Ave.
◗ Condado Tacos, 838 Broad Ripple Ave.
◗ Crazy Tortas, 825 Broad Ripple Ave.
◗ La Piedad, 6524 Cornell Ave.
◗ Tequila's Mexican Restaurant and Bar, 801 Broad Ripple Ave.
Bravo said Mexican restaurants are so popular because they offer freshly prepared food, affordability, generous portions, a festive atmosphere and the chance to sample a distinctive culture.
"I think competition is good," Bravo said. "It makes you look at yourself. 'If I'm doing something that's working, what can I do to make it even better?'"
Staying selective
To be better, Luciana's focuses on quality.
The restaurant is a client of food distribution company Sysco. George Shrontz, Sysco's director of new business development in Indianapolis, said Bravo has emphasized the importance of buying superior meat throughout Luciana's history.
"There's different levels of quality that customers can choose from, and he tends to stick with the higher-quality products that are fresh," Shrontz said. "He's not buying a bunch of frozen product and thawing it out."
Bravo said he instructs his employees to love their customers and serve good food.
"We care about [customers] so much that we won't compromise on food quality," he said.
Although his food costs recently have doubled, Bravo said he strives to not pass along increases to customers.
"I understand our customers are paying more for everything," he said.
Still, Bravo acknowledged that holding the line might not be sustainable, and he expects to review prices in 2023.
"I don't see things getting better," he said.
But he also knows that challenges lead to opportunities. He recalled a Cinco de Mayo celebration in 2020, when customers at the Greenwood Luciana's did so much curbside business that police officers showed up to investigate a traffic jam.
"Our parking lot was full, the next parking lot was full," he said. "We had a line of cars on State Road 135."
Of course, it takes a little time to develop that kind of following at a location.
Bravo said it customarily takes about seven months for operations to "get under control." It's then, he said, when he becomes restless and motivated to look for the next building.
"That's what gets me going," Bravo said. "Doing the whole thing again."•
Please enable JavaScript to view this content.