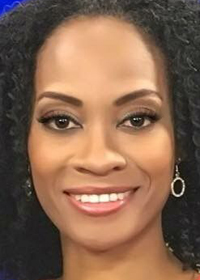 TV news veteran Karen Campbell announced on social media Thursday that she would be leaving her broadcasting career in Baltimore to join WTHR-TV Channel 13 in Indianapolis beginning Aug. 5.
Campbell spent five years in Baltimore in various TV and radio roles, most recently as a reporter for WBAL-TV, an NBC affiliate in Baltimore.
She is filling a position left open by the retirement this summer of longtime WTHR reporter and anchor David MacAnally.
WTHR confirmed the hiring of Campbell on Friday. It also said it was hiring multimedia journalist Sarah Jones, who last worked for KWQC-TV, an NBC affiliate in the Quad Cities. Jones will start in September.
"Karen is a real solid reporter and she is great on the [anchor] desk too. That's really important to us. For us, it's all about versatility," said WTHR News Director Jeff Rosetti.
Campbell will likely start on WTHR's nighttime newscast as a reporter and will work as a fill-in anchor on the noon newscast as well as on weekends.
"I'm thrilled to have a deeper anchor fill-in bench," Rosetti said. "Anytime we can find someone of that quality it's worth it to bring them into WTHR. Her reel was very impressive, and we can't wait until she gets here."
Before joining WBAL, Campell hosted a 30-minute talk show called "Game Changers" for CharmTV, which is operated by the city of Baltimore, and was an instructor at Johns Hopkins University.
She also did stints working for the Baltimore Sun Media Group, Sinclair Group and Hearst Television, all in Baltimore, as well as WBOC-TV in Salisbury, Maryland.
Campbell started her career in print, working stints as a reporter for Public Opinion Newspaper in Pennsylvania and Gazette Newspapers Inc. in Maryland. She graduated from Bowie State University in Bowie, Maryland, in 1999.
Jones is filling an opening left by the departure of reporter Anna Carrera in June. Carrera took a job as the research communications manager for the Indiana University School of Medicine. She'll work mornings and afternoons Tuesday through Saturday.
"Sarah is a very interesting person with a very interesting background," Rosetti said. "She has worked for CNN, the BBC, TRT World in Turkey and London-based Independent Television Network. She has a wealth of experience and we think she is going to be a real asset."
Please enable JavaScript to view this content.