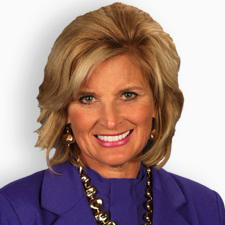 Longtime morning traffic reporter Mimi Pearce has departed WTHR-TV Channel 13 as part of a strategic change in the way the station covers traffic.
Neither Pearce, who had been at the station for 18 years, nor WTHR officials disclosed whether she was fired or resigned. Pearce bid farewell Wednesday on her last day on the air at the station, thanking viewers and colleagues.
Pearce said on her Twitter account that "Channel 13 has made changes to its traffic operation [and] as a result, today was my last day."
She could not be reached for further comment.
Pearce, a Butler University graduate who grew up in Martinsville, said on Twitter that she would continue to provide radio traffic reports for local country radio station WFMS-FM 95.5, which she has done for 34 years.
WTHR said it will no longer have a dedicated person covering traffic.
"The traditional traffic reporter will not exist in this new model," WTHR General Manager and President Michael Brouder told IBJ. "The role will be shared among weather, a social reporter and, if warranted, an anchor. [It] all depends on the story of traffic on the particular day."
Brouder said the coverage shift is part of bigger changes to update the way the station delivers news "across all of our distribution platforms."
"WTHR recognizes that the way people get their news and traffic has changed enormously," Brouder said. "[So] WTHR is pivoting to remain relevant in that space."
One of the first steps in the transformation was seen Wednesday, Brouder said, as WTHR unveiled a new graphics package during its morning newscast.
"This spirit of innovation will be reflected in how we tell our stories and the way these stories are presented," he said.
Brouder said the morning traffic reports "will take on a more social, interactive presentation interwoven into a broader conversation of the day's events."
Dozens of Pearce's Twitter followers responded to the message, expressing disbelief and sadness.
Raquel Bahamonde, owner of Indianapolis-based public relations firm Bahamonde Communications, called WTHR's decision regarding Pearce a "giant mistake." She called Pearce, who has worked in the Indianapolis market since graduating from Butler, "one of the best in the business."
Meteorologist Chuck Lofton, who has been at WTHR for 35 years, weighed in on Twitter, calling Pearce "the greatest traffic reporter in our state's history and one of the finest people I've ever known."
Last June, WTHR was sold by its longtime owner, Columbus, Ohio-based Dispatch Broadcast Group to Tysons, Virginia-based Tegna Inc. The Dispatch Group, which was controlled by the Wolfe family and known for heavily investing in WTHR, had owned the station since 1975.
Tegna, which owns or operates 62 television stations in 51 markets, was created in June 2015 when media conglomerate Gannett Co. split into two publicly traded companies. Tegna comprised the broadcast TV and digital media divisions of the old Gannett.
WTHR for years has been one of the top rated local news stations in the Indianapolis markets. In recent years it has been fighting with WXIN-TV Channel 59 for the top spot in terms of viewership in this market.
Please enable JavaScript to view this content.