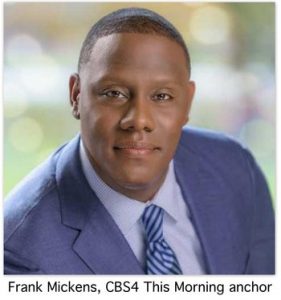 WTTV-TV Channel 4 has parted ways with morning news anchor Frank Mickens, marking the latest of numerous staff changes Nexstar Media Group has made since acquiring the Indianapolis television station less than four months ago.
Mickens had been with the local CBS affiliate for three years. He came to WTTV from CBS affiliate WFMY-TV in Greensboro/Winston-Salem, North Carolina, in December 2016 after 13 years there as an anchor, beat reporter and investigative reporter.
Nexstar bought Tribune Media for $7.2 billion in September, creating the country's biggest broadcast company. The acquisition also included WXIN-TV Channel 59 as well as 40 other stations.
Since then, Nexstar named a new vice president and general manager for the Indianapolis stations in November and terminated about two dozen employees in December, industry sources told IBJ last month.
Officials for WTTV and Nexstar did not reply for a request for comment Monday morning.
Mickens, who could not be reached for comment, told followers on Twitter that he hasn't determined yet what his next job will be.
"Only God knows what's next," Mickens said. "And we can't wait to see it!"
Mickens, a graduate of Syracuse University, lives in Carmel with his wife, daughter and two sons.
WTTV officials said in 2016 they were confident Mickens' hiring would boost the stations' local news ratings. But WTTV, which launched local newscasts when it snagged the CBS affiliation from WISH-TV Channel 8 in January 2015, has struggled to gain traction with news viewers, usually sitting fourth or fifth—out of five stations—in the morning ratings race.
WTTV's morning news has often had fewer than half the viewers in the 25-to-54 demo as the market's top two stations, WXIN and WTHR-TV Channel 13, according to New York-based Nielsen Media Research.
The station parted ways with another morning anchor, Tim Doty, in early 2017.
Sources told IBJ that WTTV is looking to hire a new anchor, so Mickens' departure doesn't appear to be an overall staff reduction.
Please enable JavaScript to view this content.