Construction on a $41 million apartment and retail project downtown should begin in the fall and finish in early 2019, developers told Metropolitan Development Commission members Wednesday.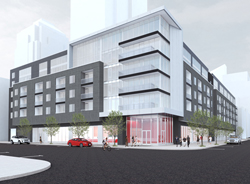 Dubbed The Ardmore, the five-story development is slated to be built on 2.8 acres at the southwest corner of North Delaware and East New York streets. (Click on image for larger view.) That's the same block as the 36-story Regions Tower, which was developed in 1970 and for many years was the tallest building in the state.
Property Lines first reported the project in November. On Wednesday, the development team of Gershman Partners Inc. and Deylen Realty Inc. provided the MDC details on The Ardmore's timing and financing.
They've received zoning approval and now are seeking a developer-backed tax-increment financing bond from the city to help finance the project. The amount, to be determined, will need MDC approval.
The Hogsett administration is employing developer-backed bonds to help finance several projects seeking city assistance. Under traditional tax-increment financing deals, the city assumes the risk of a bond issue and must make up shortfalls if additional property tax revenue generated in the district falls short of debt payments. Under the new strategy, the developer backs the bonds and is on the hook for shortfalls.
Plans for The Ardmore call for 126 apartments ranging in size from 553 square feet to 1,631 square feet; 20,000 square feet of retail; and 302 below-ground parking spaces.
"This is kind of our ongoing assault on surface parking lots downtown," said Craig Von Deylen, a principal of Deylen Realty.
The developers are partnering with Nightingale Properties on The Ardmore project. New York-based The Nightingale Group LLC in September 2014 bought the Regions Tower for $65 million from a local ownership group and is "carving out" the space for The Ardmore.
The ownership group consisted of Todd Maurer, a principal at Newmark Knight Frank Halakar, which managed the property, and his father, Michael S. Maurer, along with local businessman Robert Schloss and Pittsburgh-based McKnight Group. Michael Maurer and Schloss also are shareholders in IBJ Media, publisher of IBJ.
A block away, Gershman is developing the four-story, 30,000-square-foot Marietta addition to the Marott Center at 342 Massachusetts Ave. On a larger scale, Gershman and the Pittman family developed The Bridges on 116th Street between Spring Mill Road and Illinois Street in Carmel. It includes a Market District grocery store, CVS Pharmacy, multiple fast-food restaurants and other retail tenants
Deylen developed The Hinge and Slate apartment and retail projects on Virginia Avenue in Fletcher Place and is building the similar Forte at 1202 S. Shelby St. in Fountain Square.
Blackline Studio is the architect on The Ardmore project.
Please enable JavaScript to view this content.