Mayor Greg Ballard this month rolled out the first of what he hopes will be 10 to 15 city sponsorship and advertising deals
this year, with the aim of saving taxpayers hundreds of thousands of dollars annually.
The $5,000 deal with Louisville-based
KFC Corp. that was announced Jan. 6 is a sign the city's new program is set to take flight, said Michael Huber, Ballard's
director of enterprise development.
Huber thinks the money raised annually by such deals could escalate into
the low-seven-figure realm.
The deal with KFC includes putting an image of the fast-food restaurant's iconic
Colonel Harland Sanders and a company logo on fire extinguishers at city recreation centers and doing a photo shoot with the
Indianapolis Fire Department and Mayor Ballard to help launch its fiery grilled wings. In exchange, the city gets money for
smoke detectors and fire extinguishers.
Ballard in April announced his plans to seek companies interested in
sponsoring city programs and services and possibly even buying naming rights to city buildings.
In July, city
officials hired Indianapolis-based marketing firm Third Street to deploy the municipal marketing and ad sales plan. City officials,
Huber said, are busy compiling an inventory of everything with potential for a sponsorship or advertising that could net the
city money.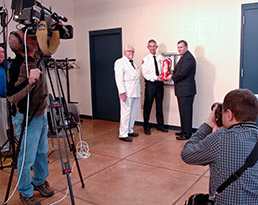 Indianapolis Mayor Greg Ballard and Indianapolis Fire Department officials posed with an actor representing Colonel
Harland Sanders as part of a publicity campaign. (IBJ Photo/Robin Jerstad)
City officials have been talking with KFC
since late summer, and sources close to Ballard said at least two other deals—one for a company to become the city's
official wireless provider and another for an official tire provider for the city's auto fleet, including police cars—are
in the late stages of negotiations.
City officials say they are being careful with the initial deals.
"We want to get these first deals right," Huber said. "We want the benefit these deals provide to be
obvious to the citizens. We don't want to defile public space."
Larry DeGaris, a University of Indianapolis
marketing professor who led a municipal sponsorship study for Houston in 2001, said the types of plans launched by Ballard
are "potential political land mines."
"Sponsorships in general, and in particular when they
are done in conjunction with a government entity, convey the notion that corporations are coming in and taking over,"
DeGaris said. "The hostility and opposition to such programs can be very severe. Taxpayers think since they pay for
many of these programs, services and buildings, they should have a say in what name goes on them, and rightfully so."
The negative reaction to the proposed plan in Houston was extreme, DeGaris said.
"The one thing
we found out with the focus groups and other studies we did is that sponsors have to make it very clear why they are there,
and the community service element of the deals has to be very evident," DeGaris said.
Ballard and his
staff have not been dissuaded from following the likes of San Diego and Chicago, the highest-profile cities among the handful
that have made such programs work.
City officials have assembled a citizen advisory group, including officials
from the highest-profile neighborhood associations, to advise on which sponsorship and ad deals are appropriate. Some deals,
such as those with tobacco and alcohol companies, have already been deemed off-limits.
"These programs
can be successful if they're implemented correctly," said William Chipps, senior editor of IEG Sponsorship Report,
a Chicago-based trade publication following the sponsorship industry. "But you have to be careful about the appearance
of over-commercialization. If it looks like you're just trying to sell out, and stick a sign on City Hall, the public
outcry will be considerable." 
Chipps pointed out that San Diego, which launched its municipal marketing
program in 1999, has been highly successful with such programs, signing sponsorship deals over the last decade that now yield
more than $2 million annually. San Diego has sponsorship deals with the likes of Sprint, Pepsi and San Diego Credit Union.
KFC, Chipps said, is no stranger to the municipal marketing game. It has shelled out big bucks to pay for pothole
patching in certain markets, including Louisville, in exchange for permission to put its logos on the asphalt patches.
The Indiana town of Brazil also is part of the chicken-wing campaign. Brazil will get $2,500 to repair or replace
fire hydrants in exchange for putting the KFC logo on at least three of them.
KFC approached Chicago about
stamping its logo on asphalt road patches in the Windy City. But when Chicago officials asked for $25 million, the company
backed away.
"[KFC] appears to be a good first partner," DeGaris said. "They are actively looking
for these deals, which they clearly see a value in."
But DeGaris scoffs at the idea of stamping sponsor
logos on asphalt patches.
"People will look at that logo as visual pollution," he said. "People
have to know these programs are about more than just slapping corporate logos all over the place."
There's
potential to expand the KFC deal, Indianapolis officials said, including having KFC feed Indianapolis firefighters during
extended fire and other emergency runs.
For now, KFC will provide $2,500 to the local fire department to buy
1,000 smoke detectors that will be handed out to the public. KFC also will pay $2,500 for about 33 fire extinguishers for
17 Indy Parks recreation centers. Each fire extinguisher will feature a 4-inch KFC logo.
"This is a pilot
program for both sides to see how this is received," said Jen Pittman, Ballard's spokeswoman. "So far, we
like what we've seen."•
Please enable JavaScript to view this content.