OK, so its moniker is actually tied to the Stutz sports car, but Bearcats Restaurant (1055 N. Senate Ave., 602-3509) nevertheless made this month's list of animal-named eateries—all the better to check out the latest option from serial restaurateur Tim Reuter (Bourbon Street Distillery, Living Room Lounge and Tip Top Tavern).

Located in the labyrinthine Stutz Business Center, Bearcats replaced the Loading Dock pub a year or so ago and Reuter took over in October. The good news for the directionally challenged (guilty) is that diners can bypass the Stutz's often-confusing corridors in favor of the restaurant's own Senate Avenue entrance.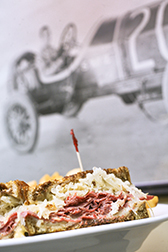 The "Dublin" Reuben finished first at our visit to Bearcats, named for the famed automobile. (IBJ Photo/ Perry Reichanadter)
We did just that and seated ourselves in the unassuming lounge, where we were greeted by a friendly server.

Sticking with her advice, we tried Onion Rings ($5.99) and a couple of standard sandwiches: Breaded Tenderloin ($7.95) and The "Dublin" Reuben ($7.95). Each was served with a mound of decent French fries and a cup of sweet coleslaw, making us wish we'd eschewed the o-rings, which were enormous, if a bit limper than we would have liked.

The Reuben, on the other hand, was stellar. Bearcats roasts its own corned beef—a lean, flavorful meat that had my mouth watering. Like most other Reubens, the corned beef was topped with grilled sauerkraut, Swiss cheese and Thousand Island dressing, but it wasn't piled so high that I had to dislocate my jaw to take a bite.

My companion opted for the tenderloin, wavering momentarily on the grilled-or-fried question before giving in to decadence. What's the point of a grilled tenderloin, really? And what's the point of a tenderloin at all if it isn't cut fresh (as Bearcats' are) and the right balance isn't found between the crisp and the tender (ditto). At half the size, it would have been a pleasure. He also tried a cup of chili ($2.99 or part of a $6.99 Endless Soup and Salad combo), finding it heartier than standard bar fare.

Yes, Bearcats is a bar, too, with a lounge-like area for adults only. Families and artistic-minded teens can sit at the all-ages counter or one of the booths in the wide corridor that features the titular auto.

Duty called, so we couldn't stick around for a lunchtime libation—the beer menu includes selections from Indianapolis-based Sun King Brewery—but we were tempted by the couches surrounding a gas fireplace. Next time. If we have time.•

–Andrea Muirragui Davis
__________

Third in our month-long series of reviews of animal-named eateries.