This week, a tribute that transcends at the Phoenix, plus thoughts on this year's Spotlight benefit.

____________

The theatrical landscape is littered with tribute shows to well-known songwriters that only served to remind audiences how great the originals were and how lame the imitation.

Such Broadway productions as "Lennon" (which ran for under two months in 2005), "Ring of Fire" and "The Times They Are A-Changin'" (each ditto in 2006) and the Burt Bacharach 2003 cringe-fest "The Look of Love" (the same in 2003) are all testament to the difficulty of creating satisfying theater out of the catalogs of individual songwriters.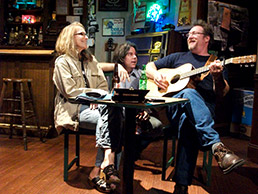 The Phoenix Theatre's Bryan Fonseca transformed the songs of John Prine into a theatrical evening. (Photo courtesy Phoenix Theatre)
I bring these up in an effort to make clear the brutal task the Phoenix Theatre's Bryan Fonseca created for himself in transforming the songs of John Prine into a theatrical evening.

Prine is the sort of three-chord singer/songwriter beloved by fans and fellow musicians but little known to the rest of the world. Best known for "Angel from Montgomery," (notably covered by Bonnie Raitt, Dave Matthews and others), his songs go from the whimsical "Illegal Smile" to the mournful elegance of "One Red Rose" with plenty of unsentimental, realistic ground covered in between.

In "Pure Prine" (which, I'm sorry to report, had a limited May 7-16 run), the music seems to grow organically out of the characters and the environment. Fonseca finds a theatrical voice and structure for the show that doesn't compromise the material, providing just enough dialogue-free plot to keep the show moving forward. And the timing beautifully allows the show to take advantage of the detailed bar-room set still standing from the previous Phoenix show "Yankee Tavern." Its specificity helps anchor the show. Prine writes the kinds of characters that are intimately familiar with the feeling of sitting on a bar stool too long.

Populating the bar are a couple (Tim Grimm and Jan Lucas-Grimm) whose affection for each other has clearly helped them weather more than a few storms. There's a troubled guy (Michael Shelton) who can't stay loyal to a feisty good girl (Bobbie Lancaster) and finds himself drawn to a barmaid (Jenni Gregory) as haunted as he is. And, of course, there's a bartender (Tim Brickley) who has seen and heard it all.

It's helpful that all involved are expert musicians. And that none tries to imitate Prine. Instead, they pay tribute by honoring the grace of the music and the richness of the characters, both in their humor and in their pain. Only once does a number feel distractingly choreographed. Only one or two songs feel forced into the show because they are better-known Prine tunes.

But these minor glitches are heavily outweighed by the combination of the performers' skills, Fonseca's deft guiding hand, and Prine's achingly human songs. I'm hoping to catch "Pure Prine" again before the run concludes. And I'm hoping that the most impressive world premiere theater production to come out of Indy in recent memory has a long life beyond this short run.
____________

At this year's edition of "Spotlight," the Indiana AIDS Fund benefit that nearly sold out Clowes Hall on May 10, one of the prime pleasures of the show was watching talented individual local performers rivet such a large house.

How many members of the audience would otherwise see a performance by poet Tasha Jones, who beautifully combined memory and message? How fun was it to watch the way the Indiana Repertory Theatre's Milicent Wright held the audience in the palm of her hand in an excerpt from "Pretty Fire"? How privileged did I feel to see what seemed like a star-is-born moment as Claire Wilcher, usually found on much smaller stages, filled Clowes Hall with her powerful, playful voice in a reprise of the shake-the-rafters "Holier Than Thou" number from Actors Theatre of Indiana's "Nunsense"?

Yes, Spotlight supports a worthy cause (the evening raised over $300,000). But beyond the wonderful charitable work, the show is also a gift to the audience members who, I hope, were inspired by what they saw and will seek out the work of these performers and organizations in the future.•

__________

This column appears weekly. Send information on upcoming A&E events to lharry@ibj.com. Visit www.ibj.com/arts for more reviews, previews and blog posts. Twitter: IBJarts