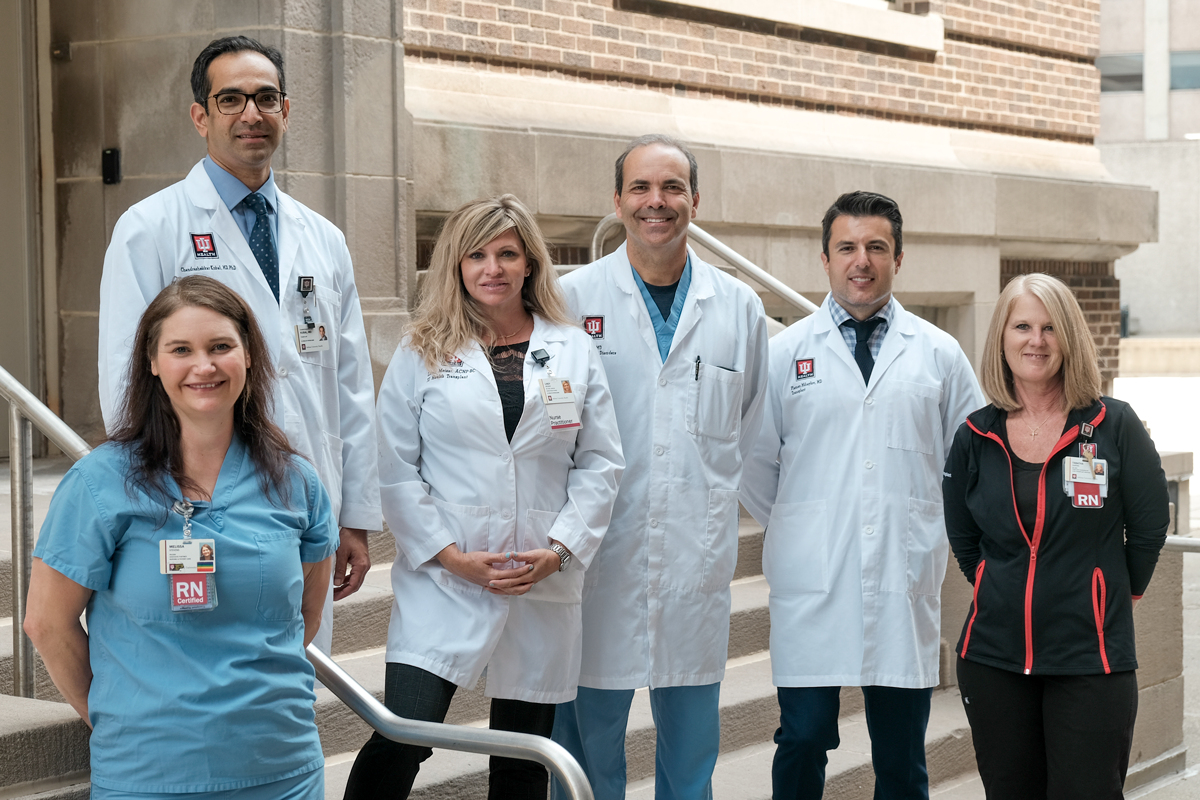 Honoree, Advancements in Health Care 
IU Health Living Donor Liver Transplant Team
When the system for allocating cadaver livers to patients in need of a transplant changed drastically in 2019, creating a shortage of available livers in Indiana, Dr. Shekhar Kubal and his team at IU Health already had a plan.
Kubal, surgical director for IU Health's adult liver transplant program, had seen the shortage coming since he arrived here in 2008. The United Network for Organ Sharing, which sets the rules for how donor organs are distributed, was gradually changing the system to address a shortage of livers on the East and West coasts. That meant Indiana would keep fewer livers in state, and Hoosier patients would suffer.
The solution to the problem aligned with an interest of Kubal's. "I've always had this vision of doing living-donor transplants," he said.
In Kubal's native India and other Asian countries where transplanting organs of the deceased isn't widely accepted, it has become commonplace to replace diseased livers with portions of livers given by living donors.
Among complex organs, the liver is the only one that can regenerate. Over the last 20 years, clinicians in South Korea, India and other countries have worked diligently to understand just how much of a liver can be taken without putting the donor at risk and how much a recipient needs. Their success has made the surgeries routine in Asia, Kubal said.
Seeing the looming shortage of cadaver livers in Indiana, he went to Seoul, South Korea, in 2014 to begin exploring what it would take to start a living-donor transplant program here. In 2018, he and another IU Health surgeon traveled to India for hands-on training.
They were prepared when the latest rules change for organ distribution happened the next year, forcing Indiana to export about 70% of its cadaver livers, up from 40% previously. "The magnitude of this particular change was so great that we would only be able to do about 50% of our transplants," Kubal said.
It took until July 2020 to get IU's living-donor transplant program up and running. The only one in the state, it had done 11 of the surgeries as of August 2021 and Kubal anticipates doing about one per month.
"The [12-hour] operation is challenging and complicated," Kubal said. "Donor safety is the most important thing, because these are healthy individuals undergoing a major operation for a selfless reason, an operation they don't need."
The recipients, however, are in dire need. They are among the estimated 14,000 U.S. patients waiting for a liver from one of about 8,000 deceased donors. The patients Kubal and his team are targeting with the living-donor program are at the bottom of the transplant list and unlikely to get a donated liver before it's too late.
Even with the living-donor program, finding someone willing to donate remains the greatest challenge, Kubal said. To help the cause, IU has opened its program to non-family members, making the program one of few that does so. Four of its 11 living-donor surgeries have involved donors from the general population.
"It's one of the keys to our success," Kubal said.•
Please enable JavaScript to view this content.