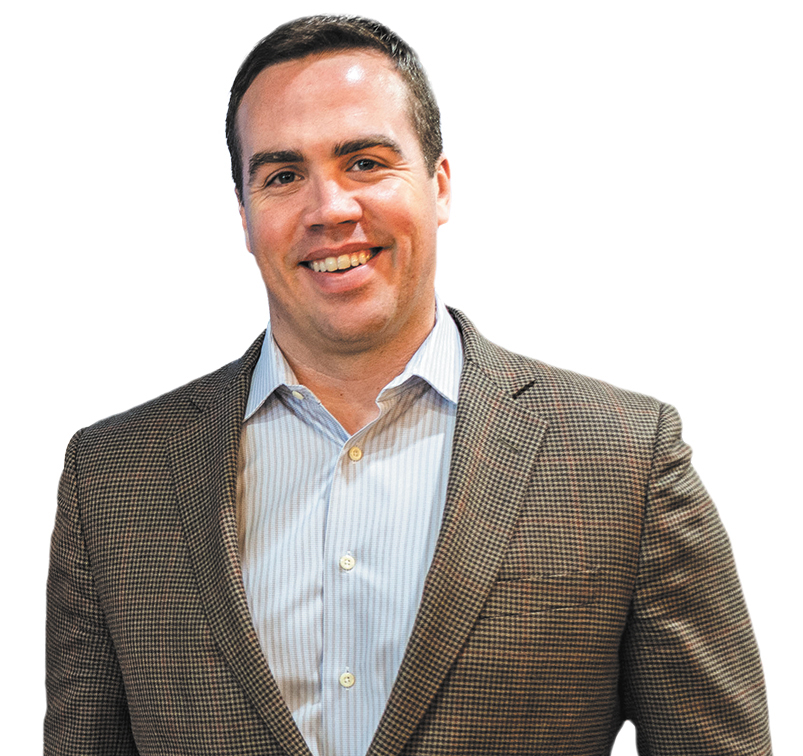 Too many people to count—across several organizations, companies and government agencies—contributed to Indianapolis' landing and then hosting the entire NCAA Men's Basketball Tournament this spring.
The Indianapolis-based NCAA, of course. Visit Indy. Downtown Indy Inc. The Capital Improvement Board. The city and state. But no entity was more responsible than the Indiana Sports Corp., which put together the strategy that led Indianapolis to begin hosting sports again, even as other cities stayed shut down.
Ryan Vaughn is the leader of the Indiana Sports Corp., which is why IBJ has named him its top newsmaker of 2021—although we know he would want to share the credit with others.
Click here to see seven other top newsmakers of 2021.
In fact, in a column Vaughn wrote for IBJ just before the tournament began in March, he praised not just those who would help him pull off the event but also those who set the table years before he came on the scene.
"Those familiar with Indy and its 40-plus-year sports strategy know that the chance to host 68 teams and 67 games over the course of 19 days does not come about by accident," he wrote.
"It has taken more than four decades of strategic thinking, community collaboration and high-level execution to arrive at this moment," he said. "It's taken thousands of Hoosier residents willing to put community first in order to take Indy's success to the next level. And it's taken our citywide dedication to making the impact of our events extend well beyond the competition venue."
Vaughn was elected president of the Indiana Sports Corp. in 2014, after serving as then-Mayor Greg Ballard's chief of staff. He had been a partner at Barnes & Thornburg and served on the Indianapolis City-County Council and the host committee for the 2012 Super Bowl.
The Sports Corp.'s role is to bid for events, including the NCAA Final Four, but also dozens of other championships, tournaments and events each year. It then staffs the event host committees, which involves raising money, recruiting thousands of volunteers and coordinating almost everything but the games themselves.
During Vaughn's time as president, the Sports Corp. has hosted or won bids to host an NBA All-Star Game, multiple Big Ten championships, the College Football Playoff National Championship that will take place in January, and myriad NCAA tournaments and championships.
Vaughn was in the Mayor's Office when Ballard appointed him to serve on the committee that bid to win the 2021 Final Four. Fast forward seven years to late 2020, and with COVID-19 surging and many cities still all but shut down, it wasn't clear how the NCAA would handle the entire tournament, including the championship.
The Sports Corp., however, had already put together a plan to host sports events in "bubbles," essentially a controlled zone in which everyone inside would be tested and then quarantined together. So when the NCAA started looking for a place where it could host the entire tournament—all 68 teams—in a bubble, it found what it needed in its own back yard.
"We're fortunate to have neighbors and partners in Indianapolis and surrounding communities who not only love the game of basketball as much as anyone else in the country but have a storied history when it comes to staging major sporting events," said Dan Gavitt, the NCAA's senior vice president of basketball, at the time of the announcement.
The NCAA and the Indiana Sports Corp. staged the event across three weeks and six venues, including arenas at Purdue University in West Lafayette and Indiana University in Bloomington. But most of the action took place in Indianapolis—at Hinkle Fieldhouse at Butler University, Farmers Coliseum at the Indiana State Fairgrounds, Gainbridge (then Bankers Life) Fieldhouse and Lucas Oil Stadium, all with limited or no fans.
Vaughn and the Indiana Sports Corp. relied on hundreds of businesses and thousands of volunteers to pull off the tournament, which it did with minimal COVID disruption and high marks from participants and the media.
"I never doubted the community's ability to do it," Vaughn told IBJ. "I knew everyone would come together, but I also knew it would require, literally, 15-, 16-hour days every day for three months to do it. But there was so much enthusiasm. … I knew that would see us through the day."•
Check out more 2021 Newsmakers.
Please enable JavaScript to view this content.