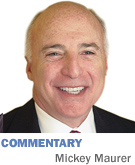 Like most veterans of the entrepreneurial wars, I have made mistakes. That propensity
is magnified by the higher-risk profile I have chosen—startups and turnarounds. Moreover, I usually opt for industries
I don't know anything about and, after enjoying the learning experience, move to something else I don't know anything
about. It has often been a treacherous journey.
Based primarily upon hard lessons learned, I evolved "The Ten Essential Principles of Entrepreneurship That You Didn't
Learn in School"—at least I didn't learn them in school. Over the course of the next 10 columns, I will
feature each of these essential principles. Your comments, criticisms and suggestions will be appreciated.
People
(Numbers are irrelevant until the People Principle has been satisfied.)
In business school, students are supposed to acquire the tools necessary to make investment decisions. We probably all learned
to prepare, analyze and evaluate financial statements, projections and business plans. But never in a single class was I informed
of the most important factor in making a sound business investment decision — people. As a consequence, I did not appreciate
the significance of this principle nor did I learn what parameters to use or how to engage in a proper analysis of this essential
element of decision-making. Business Psyche 101 should have been a required course.
Before I began my own career, I worked for apartment builder Gene Glick as his feasibility analyst. It was my responsibility
to pore over business opportunities and advise him whether to make an investment. We never discussed the people aspect of
that decision. Mistakes were made.
Early in my career, having not been apprised of the people principle, I made some bad choices — doozies. In 1991, I
embarked on a project to make a first-run movie and "Diving In" was the result. I did not know a producer from
a director so I was particularly excited about accumulating a new body of knowledge. I also did not know the distribution
side of movie-making was a quagmire absent of morality. Like the city of Gomorrah, it was hard to find an honest man. I did
not try hard enough. Please, before you go to Hollywood, screen test every member of your business cast.
As a corollary, the people principle applies to employees. Substantial turnover has sounded the death knell for a number
of companies. It is important to carefully select employees and treat them well. In addition, at least for department heads,
a plan to share profits should be provided. Management should have a stake in the company, including access to the financial
statements of the entire organization in order for them to appreciate how their department is integral to the business.
At our companies, we have an annual business meeting to review and discuss performance data and future plans. It is important
to keep employees informed, energized and challenged.
People should be evaluated on the basis of honesty, track record and compatibility in addition to what other criteria you
may choose. Know that even the best lawyers cannot protect you from a dishonest person and that your reputation, your most
important asset, will suffer from damage by association with someone who is disreputable. A good track record is a strong
indicator of success. The converse is also true.
Do not underestimate the importance of compatibility. Enlightened employers, particularly law firms, are beginning to appreciate
the relevance of this quality to the partnership track. In the early 1970s, I was a single practitioner who accepted two partners
to help me with a significant work overload—good lawyers but a compatibility disaster. It takes only one experience
like that to elevate compatibility to an important criteria in the decision-making process.
"People"—the first thing you should look at when evaluating a business deal. Did you learn that in school?•
__________
Maurer is a shareholder in IBJ Corp., which owns the Indianapolis Business Journal. His column appears every other week.
To comment on this column, send e-mail to mmaurer@ibj.com.
Please enable JavaScript to view this content.