I've always admired vintage clothing store owners for their spunk. They can't order their merchandise from a
wholesale catalog or comb a trade show for items laid out carefully on a folding table. Each poodle brooch, each pair of restored
wingtip shoes and each wool swing coat must instead be plucked from estate sales, thrift stores and hoarders' closets—not
with a search engine but with a good ol' discriminating eye.
What inevitably results is a shop that's unlike any other. Not only does each have its own truly unique offerings,
but each tends to reflect the preferences of its owner, with stock leaning heavily toward, say, '60s turbans or Bakelite
jewelry or old bell bottoms.
So when I stumbled upon news of Harloh's, a vintage shop opening in Fletcher Place Aug. 1, I couldn't wait to
learn more about its personality. In doing so, I discovered Virginia Avenue is quietly becoming a sort of vintage district,
although not by design.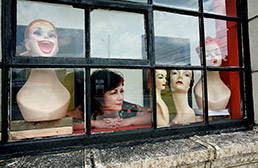 While stocking Harloh's, owner Tammy Dyson discovered the building's original windows needed
resealing when it began to rain indoors. (IBJ Photo/ Perry Reichanadter)
Three other shops, aside from Harloh's, have opened on Virginia Avenue in Fletcher Place and neighboring Fountain Square
in the past year, all independent of one another.
"Like-minded people just tend to gather here," said Natali McFarling, owner of Venus and Mars Fashion Exchange,
which opened three months ago. "They're people with an appreciation for the history of the area and for history
in general. They don't make things like they used to."
Tammy Dyson, owner of Harloh's and lover of old wool coats, plans to capitalize on the happy coincidence once she gets
her store off the ground. She's proposing a brochure featuring the area's shops for distribution in other established
vintage hubs like Dayton, Ohio.
"One store isn't enough, but I'd make a road trip for four or five," Dyson said.
Perhaps, but Dyson's eye for detail should be enough to make Harloh's a destination for Indianapolis' vintage
shoppers. Many of Dyson's pieces still have the tags on them, including a Michaele Vollbracht gown originally priced
at $1,500. And everything else looks nearly new. A cream Jantzen swimsuit with blue top stitching still bears its embroidered
label. A pale pink debutant's gown looks like it did the day it was worn in 1939, complete with its hooped crinoline.
And the clothing and accessories aren't everything. The back room will house a salon specializing in vintage hair and
makeup.
"If someone wants to walk out of the store looking like Audrey Hepburn or Marilyn Monroe, they'll be able to
do that," Dyson said.
Like the clothes within, the space itself is a study in bygone craftsmanship. The terracotta structure was built in 1925
as the Virginia Avenue State Bank, only to close eight years later during the Great Depression.
"The history is a big reason I chose this building," Dyson said. "I want to be a part of bringing this
neighborhood back to life."
With a facade grant secured by Southeast Neighborhood Development, Dyson plans to reseal some 400 window panes and restore
the rusted bank signs.
Until Dyson gets her brochure together, I've composed a temporary version below, listed in walking order from downtown.
It takes only one afternoon to do them all—which I happily did recently.
• Harloh's (630 Virginia Ave.) is scheduled to open Aug. 1.
• Voodoo Vintage (634 Virginia Ave., 529-6428) has been open for one month. Here, the mishmash merchandise and haphazard
organization make shopping a little like going through someone's garage, in a charming way. It makes sense, because
owners Joshua and Kimberly Long opened the store as a way to "get rid of all their junk." Specialties include
restored tube radios and hot rod fixtures.
• Venus & Mars Fashion Exchange (1022 Virginia Ave., 822-8255) has been open three months. In order to be fashion-forward,
owner Natali McFarling thinks it's necessary to also be inspired by the past. That's why she stocks new, pre-owned
and vintage clothing for men and women. Specialties include costume jewelry and handbags.
• IndySwank (1033 Virginia Ave., Suite 4, 632-6440) is so well-organized nothing really looks old, but that's
the way owner Jennifer Von Deylen likes it. Her shop may be sparkling clean, but she's not afraid to get down and dirty
to find what's hot. "The skinny ties are so popular now, you really have to dig to the bottom at Goodwill to find
them," she said. Specialties include pillbox hats and '50s party dresses.•
__________
If you'd like to share your own style ideas or know anyone who's making waves in the fashion community, contact
Gabrielle at gposhadlo@ibj.com. This column appears monthly.

Please enable JavaScript to view this content.