If Mayor Greg Ballard successfully closes the $1.9 billion sale of the city's water and sewer utilities to Citizens
Energy, some of the proceeds will be used to quadruple the city's effort to bulldoze or rehabilitate abandoned homes.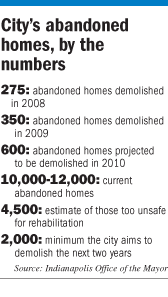 Ballard envisions using a substantial portion of the $450 million in utility sale proceeds to remove
2,000 to 4,500 unsafe homes during the next two years. The effort could dramatically reduce the number of vacant houses in
the city, which is estimated at about 12,000.
In 2008, Ballard's first year in office, the Indianapolis Department of Metropolitan Development demolished 275 abandoned
homes deemed unsafe and unsalvageable because their roofs were missing or their walls were caving in. This year, the city's
number of demolitions is expected to top 600.
In May, the mayor issued a request for qualifications from firms interested in administering a much more robust unsafe building
program.
The firm selected will assist the city with the complicated process of identifying which homes have been abandoned, judging
whether they could be rehabilitated and resold, and overseeing subcontractors' demolition of the houses deemed most
dangerous.
Ballard wants the firm he hires to develop a web of partners, such as construction companies, not-for-profits and local government
agencies, that can work together to give the city the biggest bang for its buck.
"We're not going to knock them all down. That's not the answer. Many are in good shape," said Kristen
Tusing, Ballard's director of enterprise development who oversees the abandoned housing initiative. "But what
can we do so the dent becomes a little bigger? There are 2,000 [truly unsafe abandoned homes] that we know of. We think there's
another 2,500. Those are the worst of the worst."
The Indiana Housing and Community Development Authority estimates the cost of demolishing an abandoned house at $5,000 to
$10,000 versus $45,000 to $85,000 for an average rehabilitation.
Responses to Ballard's RFQ were due June 25. Tusing is currently reviewing them. She expects to strike a deal with
a firm this fall, and hopes to kick off the initiative in January 2011. She wouldn't identify which companies responded,
but said most are construction management firms or more general program management firms.
The winning bidder will likely direct the city's effort first at houses already certified unsafe after inspection by
Marion County Health and Hospital Corp. Concentrations are greatest just east of downtown, particularly the Martindale-Brightwood
area. The United Northwest Area, just northwest of downtown, is another target.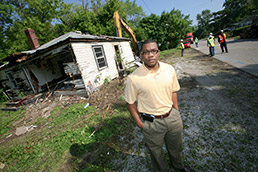 Reggie Walton next to a home being demolished at 3428 E. 34th St. Walton oversees the city's
abandoned homes program. As many as 4,500 more like it are troubling local neighborhoods. (IBJ Photo/ Perry Reichanadter)
"We have a strong understanding of where we need to go," said Reggie Walton, assistant administrator of the Indianapolis
Department of Metropolitan Development, who oversees the city's current abandoned homes removal process. "The
locations are very clear. If we had to go ahead today, we'd know exactly where to go."
Ballard's ambition in tackling abandoned homes, Tusing said, is to create a ripple effect that will resonate in neighborhoods
decades after he's departed office.
So far, Ballard has ramped up abandoned home efforts using $29 million in federal stimulus money the U.S. Department of Housing
and Urban Development provided, said John Hall, director of HUD's Indianapolis field office. Ballard has used up that
one-time capital infusion. Now his challenge will be to do it again on a larger scale with the help of a greater number of
agencies, firms and not-for-profits.
That's why the choice of unsafe building program administrator is a crucial one.
"This administration is very strong on getting the money spent, getting projects done and neighborhoods stabilized,"
Hall said. "$29 million was a nice hit, but it won't do it all for Indianapolis. It will go faster and cover a
wider net if there are partners involved."
Community leaders are willing to jump aboard Ballard's abandoned homes initiative. But they warn there's more
to it than removing or improving old houses.
Such efforts have more impact when they're part of a broader strategy to improve a neighborhood, said Indianapolis
Neighborhood Housing Partnership President Moira Carlstedt. She cited affordability, public schools, transportation infrastructure
and public safety as among the factors that must also be addressed.
"You have to go through the criteria of what leads people to buy," Carlstedt said. "It's a complicated
problem. But Indianapolis leadership has recognized for many years that resolution of abandoned housing is a primary component
of a comprehensive solution."
Experts agree the best way to eliminate abandoned houses is to reduce the number of owner-occupants who walk away from their
homes.
And that problem has ballooned since the onset of a recession caused in part by predatory lenders who steered marginal buyers
into adjustable-rate mortgages on houses they couldn't afford.
All banks have stepped up their efforts to identify troubled mortgages and do broker workouts before homes are abandoned,
said Scenario Adebesin, senior vice president of community development for Cincinnati-based Fifth Third Bank, the third-largest
mortgage lender in the city last year. But average personal credit scores have dropped while bank lending standards have tightened.
And many homeowners still fear the consequences of approaching lenders about missed payments on underwater properties.
"It's important for banks to get around the city's efforts … to help make a dent in this problem,"
Adebesin said. "Because it's bigger than the city of Indianapolis."
As Ballard mulls how to shape his abandoned homes initiative, which program administrator to hire, and how to apply the new
resources he raises from Citizens Energy in the water utility deal, he won't be starting from scratch.
Indianapolis was built on coalitions of businesses, not-for-profits and government agencies, INHP's Carlstedt said.
That blueprint can be applied again to eliminating abandoned houses.
"Public-private is long-standing here and we have multiple examples where it's been successful," Carlstedt
said. "It is ingrained in our culture. This is another example of the community saying, 'Here's what we
need and we're all willing to be part of the solution.'"•
Please enable JavaScript to view this content.