In theory, the pizza buffet is a wonderful idea. You try a slice of pepperoni, you want to switch it up, then you try a slice of sausage. Plus, most pizza buffets include some semblance of a salad bar, which allows you to use vegetables to rationalize the excess amount of dough, cheese and meat you are devouring.

Too often, though, the pizza buffet becomes a home for third-rate heat-lamped pies, accompanied by a high-school-cafeteria-level ziti and some hardened breadsticks.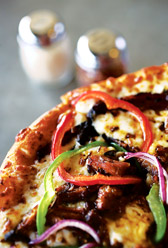 Locally owned Shebella's offers a pizza buffet that exceeds expectations. (IBJ Photo/Perry Reichanadter)
I'm happy to report that the new, locally owned Shebella's (7035 E. 96th St., 841-0486) exceeds pizza buffet expectations and, with some of the items we sampled, exceeds even those of traditional pizza joints and sub shops.

Three visual and verbal cues led me to be optimistic almost from the beginning.

First, the salad end of the buffet line included red peppers. Now, you may not like red peppers, and that's fine, but seeing them on a buffet indicates that the management isn't going for just the cheapest, most minimal options.

Second, the pizzas on the buffet are small, which not only makes sampling easier but also cuts down on their shelf time.

Third, our waitress asked if there was a particular pizza from the menu that we'd like to see on the buffet, meaning we didn't have to either take what we were given or flag down the cook to make a request.

We went for the buffet ($6.99 for lunch, $7.99 for dinner, and 45 cents per year of age for kids under 12) and supplemented with a to-go sandwich.

While the pepperoni and sausage versions were above average, the highlight of the pizza selections was the Signature Pulled Pork BBQ, featuring slow-roasted pork that was accented but not lost in a sweet sauce, with sizable slices of onions and red and green peppers. (Specialty pizzas ordered from the menu range from a $6.99 personal to a $13.99 17-incher.) Meatballs on the buffet helped give character to the pasta, and pudding and fruit offered an acceptable dessert with no extra expense.

Even after a couple of errand stops on the ride home, we were pleased to find that our take-out sandwich, Shebella's Famous Cheese Steak ($7.49 half/8.99 full), was an exemplary version of the Philly classic, with care put into the thin-sliced, slow-roasted steak and combined with a melted combo of provolone and white cheddar cheese.

Famous? Well, not yet. But that's a distinct possibility.•

—Lou Harry

__________

First in a month-long series of reviews on possessive restaurants.