Al Hall has a spray of white hair and a matching bushy mustache that hint at his unconventional streak.
So it's not surprising that, when he started a business as a sideline in his 60s, he chose a particularly challenging one—a jazz record label. Or that he came up with a novel business model that ditched the standard artist contract.
"I liken it to indentured servitude," he said of the industry norm.
The owner of an insurance business, Hall started Owl Studios in 2005 to promote local musicians and has expanded the roster to 16.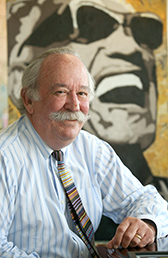 Al Hall started Owl Studios to record and promote local jazz musicians. The label has expanded to a national presence with a 16-artist roster. (IBJ Photo/ Perry Reichanadter)
He hopes his first commercial success will come next year with a new release by The Headhunters, the band that backed Herbie Hancock in the 1970s and
holds claim to the first jazz album to go platinum.
"The Headhunters should put us over the top," Hall said.
In the meantime, Owl's promotion activity has brought new energy to the local jazz scene. Hall, along with local tenor sax player Rob Dixon and Jazz Kitchen owner David Allee, took over the struggling Indy Jazz Fest in late 2008 and run it as a for-profit business. Although it didn't break even last year, the partnership brought the festival back for a Sept. 13-18 run with singer Al Jarreau as the headliner.
This summer, Owl and IU's jazz studies department announced a new contest for students with a recording contract as the prize.
Indianapolis could benefit from a successful jazz label, said New York-based drummer Mike Clark, who recorded his latest solo album, "Carnival of Soul," for Owl Studios.
"Definitely, the musicians here will feel it," he said. "Any great music that comes out of a certain city—people feel good. It's something to be proud of."
Of course, Indianapolis, which produced trumpeter Freddie Hubbard and other jazz greats, has a storied history in jazz and supported a thriving scene on Indiana Avenue in the 1940s and 1950s.
Hall, who moved here in 1981, insists that Owl is more than a hobby, but it's obvious that, for him, the music is first. Growing up in northern California, he played trumpet and could follow pre-arranged music, or "play the ink," all day. But he could not improvise.
"That's my fascination with jazz," he said.
Hall, 67, earns his living in a more arcane world, writing stop-loss coverage for self-insured employers. He runs both Owl and J. Allan Hall & Associates, which has six employees, from a spacious office on Monument Circle.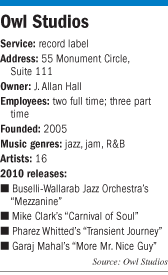 He tried once before, in the 1970s, to start a business around music. Returning from three years in the Peace Corps, which had him stationed in Nigeria and Malawi, Hall tried to set up U.S. tours for African bands.
"There was just no interest," he said.
The record label began after Hall built what he describes as a "top notch" studio in his basement for his two sons, who play drums and keyboard. It only made sense to open it to other musicians, Hall said, and he started with Dixon and vocalist Cynthia Layne.
Dixon, who studied at IU and came to Indianapolis after living in New York, links Hall to the musicians' world.
"I depend on him to ferret out artists," Hall said.
New take
Owl bills itself as an "artist-friendly" label. "Contractually, it's more of a partnership than is typically available to artists," Hall said.
Under standard contracts, artists may receive generous recording fees, but they don't share in royalties until the label recovers its manufacturing and promotional costs.
"Then the devil is in the details—define costs," Hall said. "These guys never see another dime."
Hall decided Owl would pay zero, or very small, upfront fees, but share revenue right off the bat. The artist's share escalates as Owl recovers more of the recording costs, which are $15,000 to $20,000 for bands with a few members, he said.
Hall reasons that the arrangement encourages artists to share in the promotion duties. Clark, for example, will study airplay reports and spend part of his day calling radio stations to offer himself up for interviews.
Meanwhile, Owl spends its money on publicists and radio promoters. The model seems to be working for Clark, whose album reached No. 8 on JazzWeek's airplay chart.
That was enough to convince Clark's co-leader in The Headhunters, percussionist Bill Summers, to work on a new project for Owl Studios.
"You have to have the numbers," Summers said.
Summers, who lives in New Orleans, and Clark were in town recently to mix their album at Static Shack Studios. The recording sounds magnificent, Summers said. He's so optimistic that audiences will agree, he added, "The name of the album is 'Head Hunters Platinum.'"
Serious obstacles
Hall declined to state Owl's revenue, but he knows he faces some serious obstacles to profitability.
For starters, jazz accounts for a sliver of all music sales. Hall figures jazz, classical and folk all compete for about 4 percent of the market. The rest goes to rock, country and pop.
Though Hall himself is a jazz purist, the label has signed jam-rock bands such as Garaj Mahal. And The Headhunters' new album uses rap tracks, including one by the 1990s phenom Snoop Dogg.
Some mainstream music buyers have more sophisticated taste, Hall said. "If I can get those people to buy our records, that's good."
Of course, the business is no longer about selling records, or even CDs. Owl had no trouble setting up digital distribution, Hall said.
"The established labels are like a Queen Mary," he said. "They had to change their ways and they weren't changing their ways. We immediately jumped into the digital area."
One of Owl's biggest sales drivers has been National Public Radio, which uses snippets of music in transitions between programs, then posts links to the tracks on its website. Owl artists Pharez Whitted and the Buselli-Wallarab Jazz Orchestra have seen sales spike thanks to NPR's "bump" music.
Hall also wants to see Owl artists more widely distributed in Europe, where the overall jazz audience is bigger. Setting up networks there is slow-going, he said, because each distributor controls one country, or a cluster of countries.
The major labels' financial problems mean that, when it comes to jazz, they rely on repackaging well-known artists. That creates an opening for independents to produce new music, said Marc Myers, who writes the blog JazzWax in New York. He added, however, "The problem is, most independent labels know nothing about getting the word out.
"As someone who writes the world's best-known jazz blog," he added, "I'm always appalled at how few reach out to me. Those who do have no clue how to even talk to the media."
Even the most successful jazz albums took decades to earn big money. "Head Hunters," for example, went gold six months after its release in 1973, but took another 13 years to achieve platinum.
Owl Studios' sales goals would be much lower, no doubt, though Hall did not respond to a question about the target.
Asked how long Owl would wait to see one of its releases turn the corner, he said, "I ask myself that. Maybe the best thing to do is look for a partner. I'm always exploring other ways of doing the business."•
Please enable JavaScript to view this content.