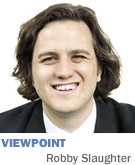 An old saying insists that character is what you do when no one is watching. If you want the best team with the strongest commitment to ethical behavior, you must ensure they have every opportunity to lie, steal and cheat.
This strategy sounds radical and counterintuitive. Shouldn't we closely monitor employee activity? Shouldn't we keep interior doors locked, ration valuable resources, bolt down furniture and equipment, and install security cameras? These are certainly prudent actions to reduce the threat of abuse and criminal activity. However, most people—and furthermore, most employees—are honest, law-abiding citizens. Why do we build work environments that practically boast about how little we trust our workers?
Much of the rationale is surely a calculated risk. Most people don't need strict policies and mechanisms to behave ethically, but the financial outlay of a security program is significantly less than a lawsuit or catastrophic loss. This small investment, however, may have a hidden cost to employee morale and productivity. As best-selling author and corporate visionary Ricardo Semler notes, "I'll bet that, on average, 2 percent or 3 percent of any work force will take advantage of an employer's trust. But is that a valid reason to subject 97 percent to a daily ritual of humiliation?"
At his own wildly successful factories, Semler replaced security checkpoints and random searches with a sign that read, "Please make sure as you leave that you are not inadvertently taking anything that does not belong to you." At first, employees wanted the old system back so they could show they were honest. Eventually, they realized the company had changed its position: Now everyone was assumed innocent until proven guilty.
Through the steady accretion of bureaucracy, we fail to establish large organizations with the premise that most people have a moral conscience. Even a small step in the direction of trust seems unimaginable. Consider the philosophy of one locally owned restaurant: If you whip out a credit card, a staff member will proudly explain the business accepts only "cash or IOUs." Choose the latter and you'll receive a hand-scrawled note. The theory is that anyone you'd want as a repeat customer will come again to settle up while people who would dodge their bill will never return.
Likewise, we don't worry about employees making a few brief personal calls to loved ones from the phone on their desk. So why do we ask IT departments to block access to online banking, private e-mail accounts or e-commerce sites? We don't tell hourly employees to clock out during a 10-minute rest-room break, so why do we measure the number of minutes they are away for a half-hour lunch? Isn't it more important to get things done than to watch the clock?
Due to practical and legal restrictions, workplaces must have some policies and some monitoring. Yet at the same time, we can all acknowledge that responsible people thrive in an environment of freedom. Fewer restrictions and less bureaucracy create greater potential for innovation. Brilliance often requires knowing the rules and knowingly setting them aside. Most important, responsible people will work because they are driven by the satisfaction of progress and discovery.
Likewise, irresponsible people quickly stand out in a culture that emphasizes freedom. They will exploit any cookie jar left unguarded. They will be lazy and complacent. If they are rarely monitored, their work will barely advance. Autonomy is a kind of disinfectant that almost instantly highlights those who would violate your trust.
The best teams succeed despite all the restrictions and paranoia that limit their activities. Consider doing something drastic: Trust your employees. You may uncover a few bad seeds, but those worth keeping will take root and flourish in the open sun.•
__________
Slaughter is a principal with Slaughter Development, an Indianapolis business-process and workflow-consulting company and the author of "Failure: The Secret to Success."
Please enable JavaScript to view this content.