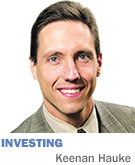 Maybe it's time to call Alan Alda and fire up those MASH units. Or maybe the entire world should come together and put Kim Young Il into permanent timeout.
Once again, the North Koreans have committed murder and the investing world has been on edge ever since. Once again, the tea leaves of the stock market tell us what is really going on, and how we should react in order to protect and grow our wealth.
The North Korean Nov. 23 attack on South Korea came during an interesting time in the shorter-term stock-market cycle. From late August, equity prices went up strongly in anticipation of the U.S. midterm election, and investors largely got the results they were looking for. The news left prices a bit elevated and in need of some kind of pullback. Conditions like this often continue until some outside force causes the directional change the stock market is waiting for.
In this case, the market slowly drifted a little lower for a few days after the election, but the Korean development spurred the selling that was needed to relieve the overbought situation. Of course, major media outlets and a prevailing bearish attitude among people with money are trying to convince us the Korean attack is reason to believe the sky is falling.
American stock market history goes back far enough to give us a lot of data and reference points we can use to help us understand the future. The historical information tells us average bull markets last a little more than three years and the Dow Jones industrial average doubles in price during that time. The average bear market lasts 14 months and the Dow typically falls about 28 percent.
Obviously, the last 11 years have been out of the ordinary, but I am still inclined to use these averages as a guide for current conditions. I think 2010 serves as a great example of my point.
Earlier this year, everyone was convinced the debt problem in Greece was going to pull down the entire global economic picture. Even though the correction was severe, equity prices rebounded and went on to post new bull-market highs within six months of their April peaks.
There were reasons for this rebound, but one I didn't mention previously was the possibility that this bull market hasn't lived out its life yet. In other words, if this bull market is average, it should continue until sometime in 2012, and the Dow will reach at least 13,000 before the next bear market arrives.
All the indicators I used last spring that told me the bull market wasn't over back then are telling me it isn't over now, either. The Korean situation is bad, and I know it is easy to fall into the camp that thinks this is a real reason to sell.
After all, North Korea is a desperate country with 25 million starving people, a maniac for a leader, and nuclear weapons. A formal peace treaty was never signed and it seems like the North Koreans are cornered with nothing to lose. With all of that known to everyone, ask yourself why the stock market isn't tanking?
How is it possible that the South Korean stock market fell only 8 percent? I mean, these countries are on the brink of what could easily turn into nuclear war. The answer to both questions is the bull market. The situation will not devolve into chaos because the bull market won't let it. And this bull market won't die until it is ready to die, which could be in about 18 months.•
__________
Hauke is the CEO of Samex Capital Advisors, a locally based money manager. His column appears every other week. Views expressed here are the writer's. Hauke can be reached at 203-3365 or at keenan@samexcapital.com.
Please enable JavaScript to view this content.