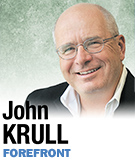 On Election Day, Gov. Mitch Daniels and Indiana Republicans got what they coveted—overwhelming control of both the Indiana House of Representatives and the Indiana Senate.

Under the governor's leadership, Hoosier Republicans hope to remodel state government, introduce market principles into the workings of public education, and dismantle what they see as the welfare state.

What was it Truman Capote said?

"More tears are shed over answered prayers than unanswered ones."

It's important to remember that Barack Obama and Democrats felt the same euphoria two years ago. They had similar majorities in the U.S. Senate and the U.S. House.

Look where it got them.

Obama and the Democrats misread the 2008 election results as a mandate for them to reinvent government. What Obama did not see is that the voters were not so much endorsing him as rejecting what had come before.

Daniels and Indiana Republicans could make a similar mistake if they read this election's results as a blank check. Hoosiers spoke with clarity about what they didn't like—higher taxes and more debt—but that doesn't mean they are willing to give up services in order to bring taxes down and reduce the debt load.

There is another complicating factor.

If the governor runs for president, he will come under greater scrutiny than before.

After six years in office, the governor has one undisputed triumph to his credit. Anyone who visits a license branch and gets his or her business there done in minutes rather than hours owes Mitch Daniels a debt of gratitude.

Beyond that, it's a mixed bag.

The attempt to privatize some services provided by the state's Family and Social Services Administration was a disaster. The contract with IBM had to be canceled, which resulted in litigation for the state and, more important, added suffering for those Hoosiers who needed help from FSSA.

The initiative that will tip the balance is the centerpiece of the Daniels years in Indiana.

Major Moves.

When the governor was pushing his plan to lease the Indiana Toll Road to a private company for 75 years, he made two arguments.

The first was that the $3.9 billion would provide the funds to add onto and reinforce Indiana's roads and bridges. The administration used to tout how much money the Major Moves fund was generating to fund road projects. Then the pronouncements stopped. Later, the Fort Wayne Journal Gazette reported that many projects the fund was supposed to be paying for had to be delayed because the fund wasn't generating enough revenue.

The second argument was that Major Moves would be the jobs bill for a generation. Reporting by Howey Politics Indiana, though, revealed that Major Moves has provided only about one-fourth of the jobs promised, in a state that is among the nation's leaders in unemployment rates.

This has prompted some Republicans to question the Major Moves deal. They say the deal monetizes the toll road at less than a 10th of the revenue it would have produced over the 75 years of the lease.

"What we did was give someone a bunch of money to do what should have been in the first place and we didn't have the will to do, which is raise the tolls to make the road pay for itself," one longtime Republican told me.

Daniels has arguments to make in response.

He can say the downturn hit the Major Moves fund just as it hit everything else and scaling back projects until the fund recovered was only prudent. He also can say Indiana's jobless numbers, while troubling, are better than those in most Midwestern states.

Those, though, are nuanced arguments.

Barack Obama can tell the governor that nuance is one of the first casualties of a political war. Obama tried to point out that the Dow was at 6,600 shortly after he took office and had climbed to more than 11,000 when he took his shellacking on Election Day.

It didn't help him.

Yes, Mitch Daniels and Indiana Republicans have what they want.

An answered prayer.•

____________
Krull directs Franklin College's Pulliam School of Journalism and hosts the weekly news program "No Limits" on WFYI 90.1 FM. Send comments on this column to ibjedit@ibj.com.