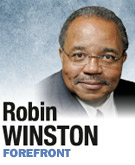 Record unemployment, home foreclosures, stagnant wages, salary concessions for workers, credit lines frozen by financial institutions. Those are the real issues that affect many Hoosier families, workers and businesses.
In communities around our state, our fellow Hoosiers are doing their best to make ends meet as we recover from an economy similar to the days of the Great Depression.
Voters decided in November to make fundamental change at the national and state levels because of our economy. This election was not just about change, folks. It was not simply about one political party being better than another. It was about changing the direction of government to address issues at the kitchen and not just the boardroom table.
Simply put, many voters I talked with wanted to send a wakeup call to politicians of both parties that they should heed the words of Jim Carville to then-candidate Bill Clinton in 1992: "It's the economy, stupid."
A majority of the polls taken before the November elections demonstrated that voters believed creating jobs should be the primary focus of our elected officials. Voters wanted candidates to support policies of job creation and retention. They wanted politicians of both parties to demonstrate true family values—by supporting jobs for working families.
We are all in this together. Small-business owners face limited lines of credit and fewer customers. Manufacturing employees are laid off because of lack of orders. Bankers are unable to provide loans for home purchases. Construction workers are idled because of slowdowns in the public sector. Teaching jobs are eliminated because of budget cuts. Young people are unable to find work in their hometowns.
The downturn in the economy has produced a ripple effect across our state for Hoosiers from all walks of life.
So, after being elected in November, what do some members of the General Assembly make their top priority? Not job creation and inducements to retain jobs. Nope.
Instead, they plan to address social issues such as same-sex marriage and abortion. That's right, with an economy still reeling and requiring support to recover, their time is spent devising legislation that will not create or retain one job.
We've seen this movie. It's called "Wedge Issues" and stars a cast of characters intent on making social issues the cause célèbre instead of working for good-paying jobs. Instead of using the energy necessary to support working families, some members of the General Assembly will use their time to produce legislation that will divide communities and divide families.
The last time certain members of the Legislature tried same-sex marriage as a social wedge issue, Eli Lilly, WellPoint, Cummins and Dow AgroSciences came forward to oppose those efforts. Those employers of thousands of Hoosiers all know that there are more important issues to address.
Now more than ever, we need to focus on jobs and on economic recovery. It is not acceptable to acknowledge that Indiana has counties where one of every 10 residents is unemployed. While we have weathered the storm on some fronts, can we really be proud that "we beat Kentucky" in losing fewer jobs?
Voters are not stupid. They want to know what their elected officials are doing about creating and retaining jobs. They will cast a disparaging eye on those who spend time on wedge issues while not working for better-paying jobs and to assist scores of unemployed Hoosiers.
Former Sen. Ted Kennedy was right when he stated, "A sound economy is the greatest social program America ever had."
Let's hope members of the General Assembly remember that in 2011 and work for jobs, not divisive wedge issues.•
____________
Winston is a lobbyist and former chairman of the Indiana Democratic Party. Send comments on this column to ibjedit@ibj.com.
Please enable JavaScript to view this content.